Sam Worthington And Zoe Saldana On Feet Obsessions, Stink Bombs And Filming 'Avatar 2'
The Avatar 2 co-stars sat down with ELLE UK for a game of 'Knowing Me Knowing You'.
By Katie O'Malley Published: 23 December 2022
play icon The triangle icon that indicates to play
If the first Avatar film didn't make you immediately want to be part of its cast and fly around the world of Pandora on the back of a giant leonopteryx (a large bird-like predator, to us non-Na'vi folk), then Sam Worthington and Zoe Saldana are here to sway you.
The actors star in the James Cameron-directed sequel, Avatar 2: The Way Of Water as Jake Sully and Neytiri, respectively. Following their Romeo + Juliet-inspired romance in the first film, the second sees the pair now with a family. Unfortunately, their world is turned upside down when they're forced to leave their home in order to explore other regions of Pandora and Sully fights a war against the humans.
During a recent game of 'Knowing Me Knowing You' ahead of the film's release, Worthington and Saldana sat down with ELLE UK to answer questions about their co-stars. During the video, the pair struggled to correctly guess the actor who once said they were 'obsessive' about feet. 'Oh, Ronal. Okay! Saldana said in shock when learning it is Winslet, referring to the British actor's Avatar character.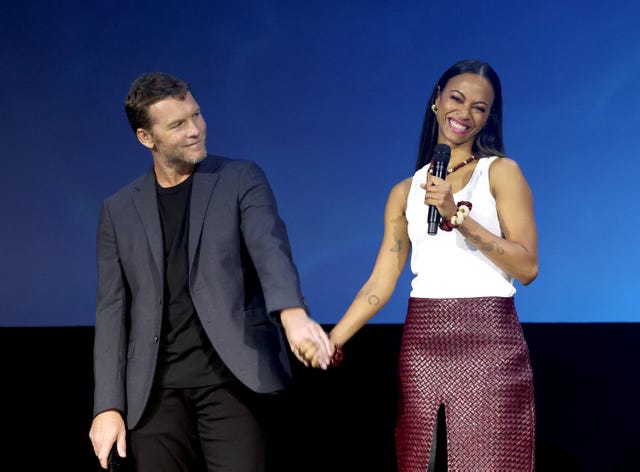 Jesse Grant // Getty Images
'She's got big feet. She' got size 13 US,' joked Worthington. 'I like hands,' Sandana replied when asked what's her favourite body part. 'My blue eyes,' responded Worthington in jest.
Elsewhere, Saldana opened up about who she'd prefer to narrate the story of her life. 'First of all, I would not want to see the film of my life. But if it was made, I'd pick one of my boys,' she said of her children Bowie Ezio, Zen and Cy. 'I like their voices. I would pick Cy's voice. He has that cute little geeky voice I just love. "It's too big".'
Later in the video, Worthington was surprised to learn it was Saldana who was expelled from school for making stink bombs. 'They were pretty stinky,' she recalled. 'I had to write a letter to every classroom. I didn't think I was going to get in trouble.
'I buried in a jar a whole load of weird things. And I buried it in a jar for like two weeks, and it's in the Caribbean so it's pretty hot there. And then I took the jar out, and you're only meant to put a couple of drops in each classroom, and then I spilled it on me… so obviously people found me guilty because I stunk. I got into so much trouble,' she explained, before Worthington jokingly moved his chair away from his co-star.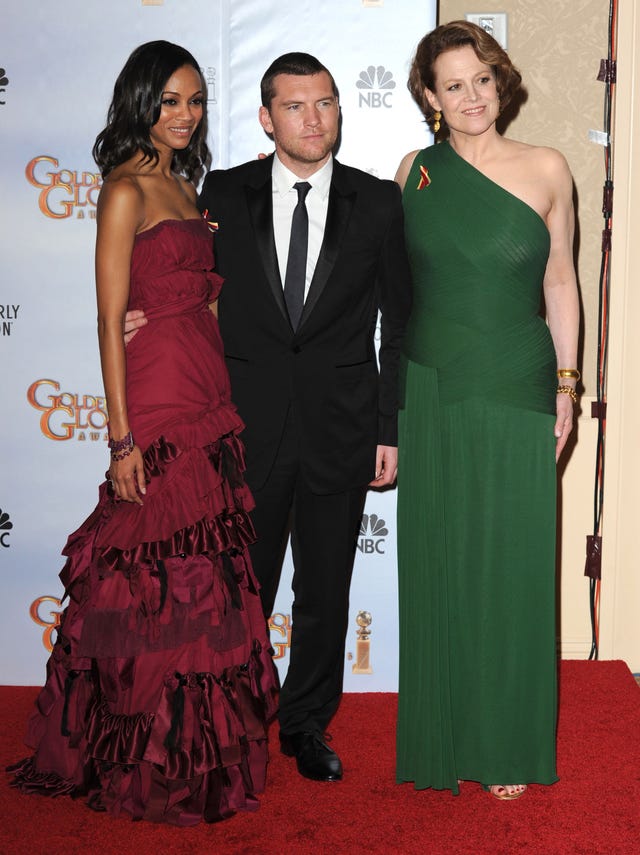 Steve Granitz // Getty Images
Elsewhere in the video, Worthington correctly guesses that Sigourney Weaver took her stage name from a character in the Great Gatsby, while Saldana had her suspicions that it was Winslet who appeared in a Sugar Puffs advert, aged 11. As for which cereal brand they'd eat for the rest of their lives, Worthington said 'Fruit Loops', while his co-star would opt for Fruity Pebbles. 'It's great on ice cream,' she added. Great tip!
When it came to the best moments from filming Avatar, Saldana said 'the hardest was training to free dive and perform underwater this time around'.
'The best part was going back to work with my friends and going to a place I love so much and reprising a role I love so much,' she explained, before Worthington agreed that the most enjoyable aspect was getting the chance to continue his character's love story with Saldana's. 'The worst part? There's no worst part!' he added.
Avatar: The Way of Water is released is out in cinemas now.
Watch the full Sam Worthington and Zoe Saldana 'Knowing Me Knowing You' video at the top of this article.
Related Stories
Deputy Digital Editor
Katie O'Malley is the Deputy Digital Editor, at ELLE UK. On a daily basis you'll find her managing all digital workflow, editing site, video and social media content, liaising with commercial and sales teams on new partnerships and deals, implementing new digital strategies and compiling endless data traffic, SEO and ecomm reports. Since joining in 2016, Katie has written features on everything from sex addiction, and the use of tear gas during protests to virtual cuddling, 'friendship fade' and access to contraception post Brexit. Her list of interviewees over the years include those with Oprah Winfrey, Benedict Cumberbatch, Reese Witherspoon, Emma Stone, Zoe Kravitz etc.