Jennifer Lopez South Park Reaction
Jennifer Lopez and South Park: Reaction to Fat Butt and Pancake Head Episode
Please subscribe to our newsletter to receive updates from Your Next Shoes. This post may contain affiliate links. Please see our disclosure for more details.
More than two decades ago, Jennifer Lopez stunned fans and critics at the Grammy Awards, where she wore a green jungle Versace dress.
With its extremely plunging neckline, the outfit showed off the actress's cleavage and became iconic to the point that it fostered the creation of numerous memes.
South Park Creators in Dresses
"The Jungle Dress," as it was dubbed, spawned a legacy and has been referenced multiple times.
South Park creator Trey Parker donned a replica of the dress just a month later at the 2000 Academy Awards. He and his co-creator, Matt Stone, were nominated for an award for their song "Blame Canada" from the film "South Park: Bigger, Longer & Uncut."
Trey Parker and Matt Stone during the Los Angeles premiere of "South Park: Bigger Longer & Uncut" at Mann Chinese Theatre in Hollywood, California on June 23, 1999 (Credit: WENN / Andres Otero / Marcus Hoffman)
Stone also wore a replica of another famous dress — Gwyneth Paltrow's pink gown from the 1999 Academy Awards. Together, the two revealed on "Jimmy Kimmel Live!" that they had been high on acid before their red carpet walk.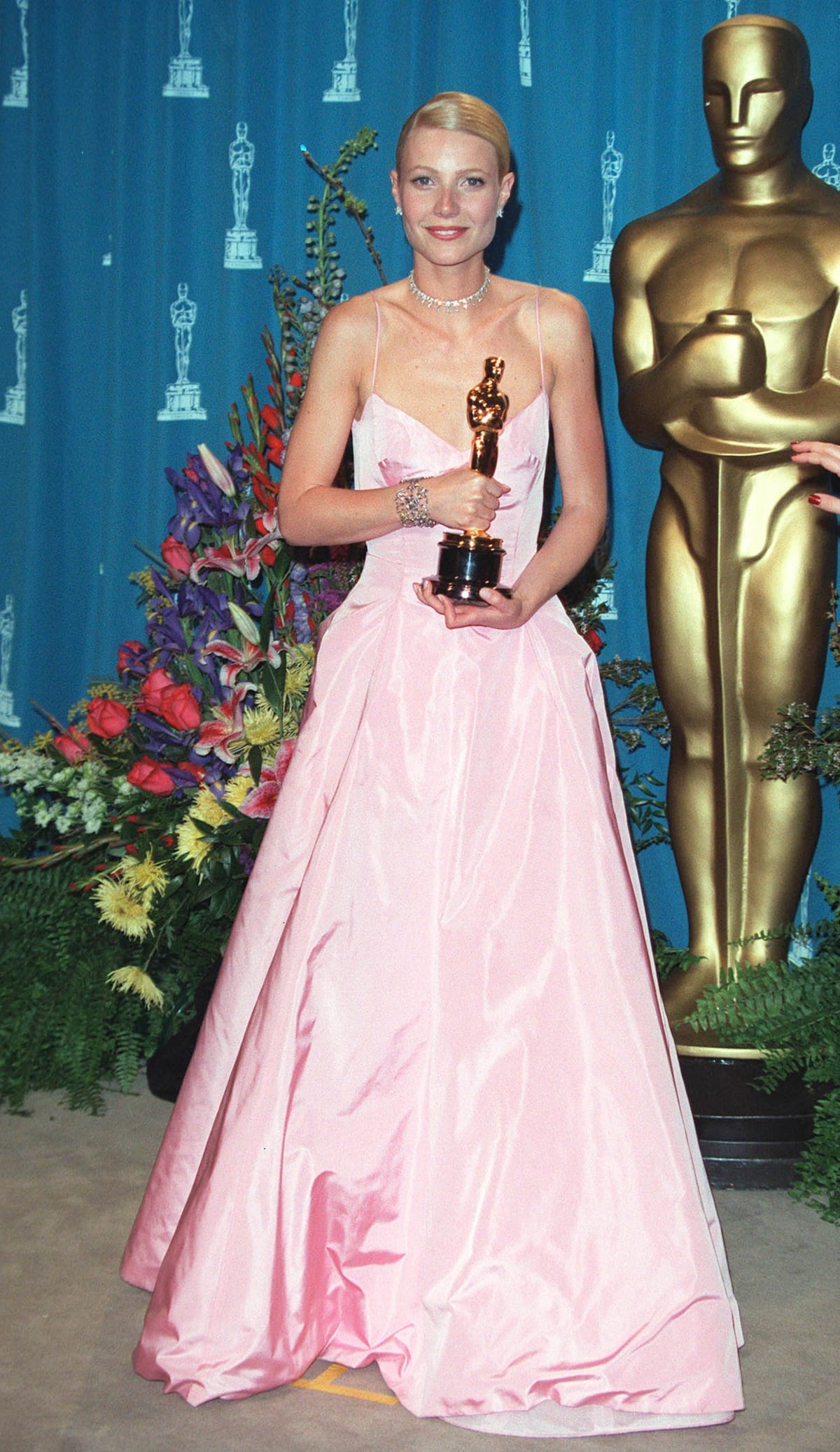 Gwyneth Paltrow wore a pink Ralph Lauren dress to the 71st Academy Awards in 1999, which received mixed reviews and was compared to Grace Kelly's style, and it brought pink back into fashion as it was widely copied after the event (Credit: Featureflash Photo Agency / Shutterstock)
"It takes a lot of energy to be that rebellious," Stone told THR in an interview, adding, "We were so, like, punk-rock — you know, like, against all of that stuff."
"Some people were stoked when we showed up at the Oscars in those dresses. Michael Caine being one," Stone said. "But I remember Gloria Estefan was super-pissed."
This parody of her infamous outfit was not the last time JLo would be made fun of in pop culture, however.
In 2003, during their seventh season, South Park presented an episode called "Fat Butt and Pancake Head," which portrayed the singer absurdly.
She was shown fighting against a Hispanic stereotyped, puppet version of herself who had stolen her career and identity. The episode was so surreal that Parker has described its ending as one of his favorites.
Jennifer Lopez's Reaction to South Park Parody
With her unflattering portrayal, Jennifer Lopez's reaction was surprisingly not at all positive.
In South Park's season 7 commentary, Parker recalls that five months after the episode aired, he "heard from some friends that were on a set of a Jennifer Lopez movie she was doing and they said that when she would walk by, some of the lower people like the PAs would say, 'Oooh tacos, I love tacos…' And that she got so mad and had to fire people…But she kept hearing it in the distance."
South Park makes fun of Jennifer Lopez in "Fat Butt and Pancake Head," the fifth episode of Season Seven that aired on April 16, 2003 (Credit: Paramount Global Distribution Group)
An interview with The Project has Parker adding an anecdote about a real-life encounter with Lopez. When asked, 'What's the best reaction you've gotten from a celebrity [who's been the subject of one of your jokes]?' he replied:
"My favorite was… and I think it was because I wore her dress to the Oscars, was when we saw Jennifer Lopez at a party, and all Jennifer Lopez did was walk past me and push me!"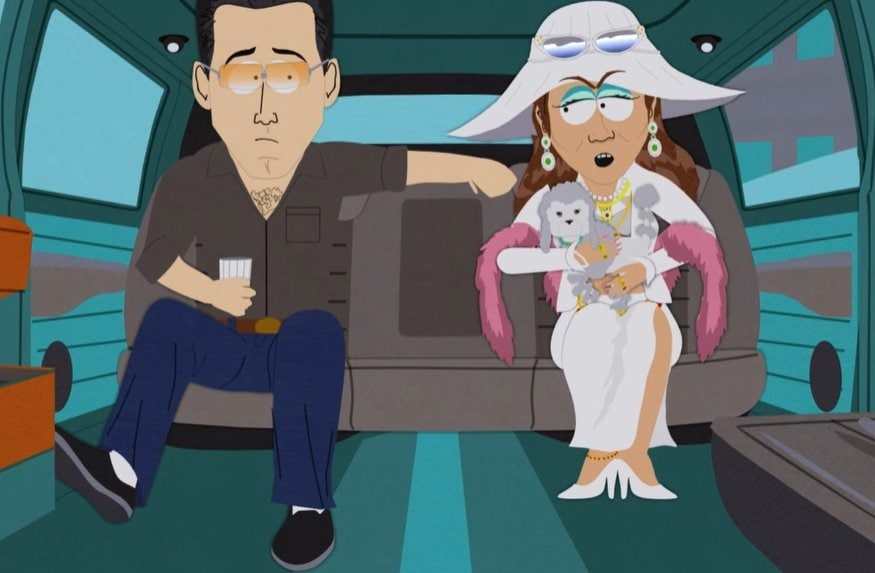 Jennifer Lopez reportedly wasn't happy to be portrayed in South Park as mean-spirited and ill-tempered (Credit: Paramount Global Distribution Group)
One year before her South Park debut, the Out of Sight actress was spotted enjoying Brazil's Carnival wearing an all-red ensemble and partying with her boyfriend.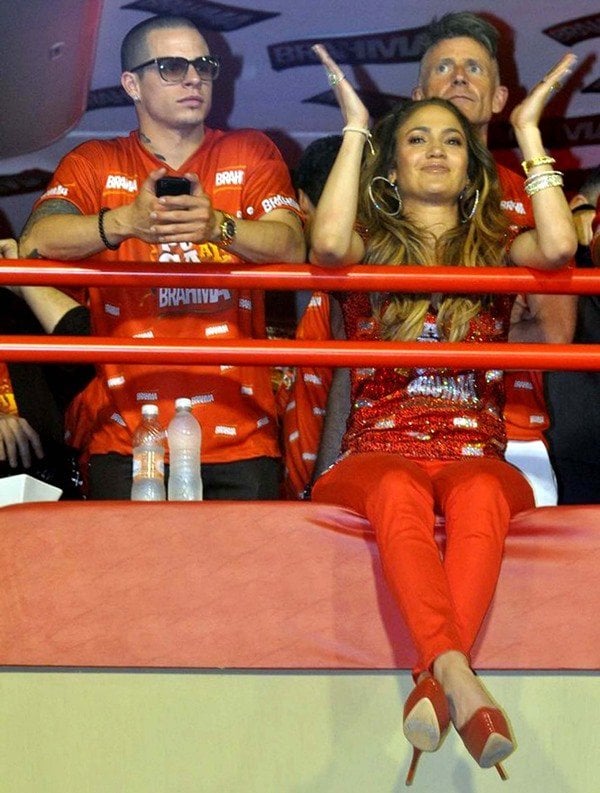 Jennifer Lopez wears her hair down as she attends Brazil's Carnival parade on February 19, 2012, in Rio de Janeiro (Credit: WENN / Andres Otero / Marcus Hoffman)

The American actress, author, fashion designer, dancer, producer, singer, and songwriter completed her red party outfit with matching red snakeskin Casadei pumps.
J-Lo's red pumps feature pointed toes, large platforms, leather soles, and stiletto heels and are available in python skin at Farfetch.
Red Casadei Python Skin Pumps, $712
While we have the focus on Jennifer Lopez, we want to share with you one of our favorite shoe moments from 2009.
Jennifer Lopez attends the MTV Video Music Awards held on September 13, 2009, at Radio City Music Hall in New York City (Credit: WENN / Andres Otero / Marcus Hoffman)
She donned a lovely champagne-colored Louis Vuitton Fall 2009 dress paired with Christian Louboutin peep-toe ankle boots.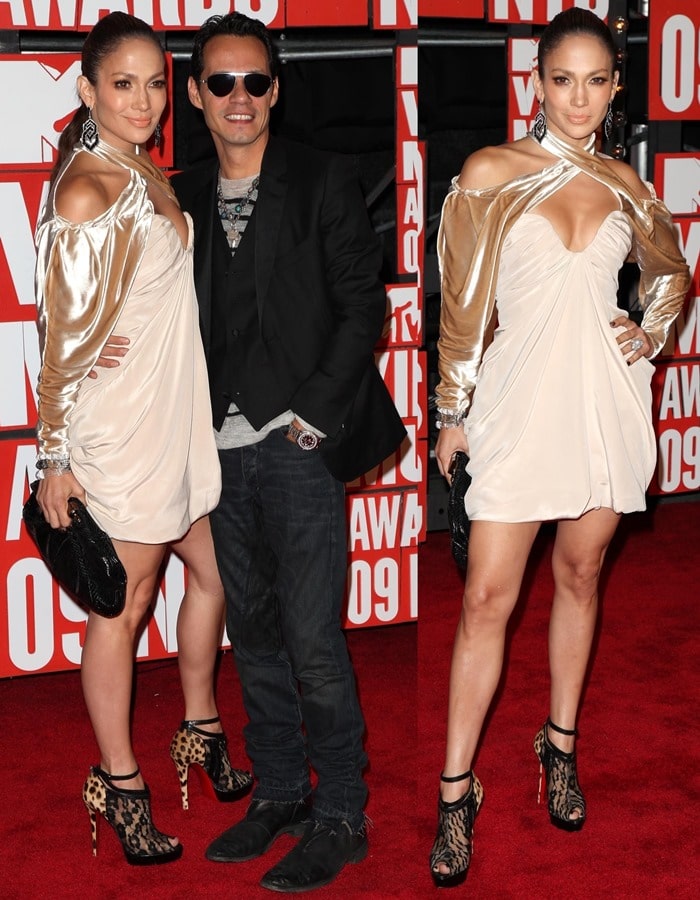 Jennifer Lopez wears a champagne-colored Louis Vuitton dress on the red carpet of the 2009 MTV VMAs (Credit: WENN / Andres Otero / Marcus Hoffman)
How do you like her animal print Christian Louboutin heeled booties?
Jennifer Lopez's feet in leopard-and-lace Christian Louboutin booties (Credit: WENN / Andres Otero / Marcus Hoffman)
DO YOU LOVE SHOES? Win free shoes, organize your shoe closet, see the latest styles + more