What Shoes to Wear with Bell Bottoms? (Sneakers? Boots? Shoes?)
Disclosure: We may get commissions for purchases made through links in this post.
Bell-bottoms can be paired with various shoe styles such as platform sandals, wedge heels, ankle boots, block heels, and sneakers. These options create a balanced silhouette and complement the retro-inspired vibe of bell-bottom pants, suitable for casual and dressier occasions.
Contents hide
I love bell bottoms. The wide-legged pants that were all the rage in the 70s and are now making a comeback. But what shoes do you wear with bell bottoms? This is a question that has perplexed fashion-conscious folks for decades.
First off, let's talk about what shoes not to wear with bell bottoms. You want to avoid anything that's too bulky or heavy, like chunky boots or platform heels. These can throw off the balance of the outfit and make you look like you're stuck in a time warp.
So what shoes should you wear with bell bottoms? Well, there are a few options. For a casual look, try pairing your bell bottoms with a pair of sneakers or flat sandals. This will give you a laid-back, effortless vibe that's perfect for running errands or hanging out with friends.
If you want to dress up your bell bottoms a bit, try wearing them with a pair of block heels or wedges. These will add some height and elongate your legs, without overpowering the outfit.
Another option is to wear ankle boots with your bell bottoms. Just make sure the boots are fitted around the ankle, so they don't create a bulky look at the bottom of the pants.
And if you're feeling bold, you can even try wearing your bell bottoms with a pair of statement shoes, like brightly colored pumps or metallic loafers. This will add a fun, unexpected twist to your outfit and show off your personality.
Ultimately, the key to wearing shoes with bell bottoms is to find a balance. You want to choose shoes that complement the pants without overpowering them. With a little experimentation and some confidence, you can rock the bell bottom look like a pro.
Different Shoe Options to Wear with Bell Bottoms, Along with Their Features, Benefits, and Drawbacks:
When it comes to shoes to wear with bell bottoms, platform shoes, and wedges are popular options that add height and balance out the wide-leg look. However, they may not be the most comfortable for extended wear.
Flats are a comfortable option that complements the flowy look of bell bottoms but may not provide enough height for some individuals. Sandals are a lightweight and breathable option that can be dressed up or down depending on the occasion but may not be suitable for cooler weather.
Boots add structure to the outfit and provide warmth and protection in colder weather, but may not work for warmer weather or more formal occasions. Sneakers provide a comfortable, casual look that is easy to wear for extended periods of time, but may not be suitable for formal occasions.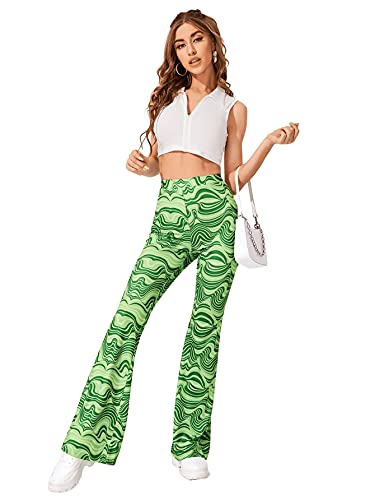 2… They're Counterculture
Sneakers and bell-bottoms are both counterculture staples from different eras… Sneakers made their first big splash around the same time that hippies wore bell-bottoms en masse in the 1960s… In fact… when we see someone wearing one of these styles now… it's usually because they're going for a retro or throwback look… Putting them together makes sense because they speak to us on a nostalgic level.
3… They're both retro styles
Bell bottoms were all the rage back in the 70s… while sneakers were popular in the 80s… Both styles have been around for some time… making them perfect for mixing and matching… Moreover… wearing these two together gives off a nostalgic feel that's ideal for young children of older parents who want to give off an innocent vibe.
Can You Wear Boots with Bell Bottoms?
While you may not be a fan of retro clothing… you have to admit that there is something about bell-bottoms that makes them appealing and fun to wear… The best part about this style is that it works great with a variety of outfits… including boots… If you are curious about why boots look good with bell-bottoms… here are three reasons why:
1… The shape of bell-bottoms allows you to show off your footwear
One of the reasons why boots look so good with bell-bottoms is because their shape makes it easy for people to see your shoes… When you wear other types of pants… such as straight-leg or skinny jeans… it can be hard to tell what type of footwear someone is wearing… especially if they have on an overcoat or jacket.
Since bell bottoms flare out at the bottom… they allow people to see your shoes more clearly… As such… they are a perfect choice when you want to show off your favorite pair of boots.
2… They balance the flared legs
One of the main reasons why boots look so good with bell-bottoms is that they help to balance out the flared bottom of your jeans… If you were to wear a pair of heels or flats… you would end up having a large portion of your leg visible between the bottom of your pants and the top of your shoe.
And since it would be such a small portion compared to the amount of leg showing on your lower half… it would make you look out of proportion… So by putting on a pair of boots… you are able to show off some skin on your lower leg without making it seem too long or out of proportion.
3… It's a versatile look that works year-round
Depending on what kind of fabric your boho pants are made from… they may be better suited for spring or fall — but they can be worn year-round if you have the right shoes… Jeans in particular can work well in winter when paired with tall boots or in summer when worn with flat sandals or peep-toe booties.
Can I Wear Cowboy Boots with Bell Bottoms?
Heels or flats… cowboy boots look great with bell-bottoms because they accentuate the flair at the bottom of the pant legs and help to create a sophisticated look… Combine that with their timelessness and comfort… and you'll understand why they've become such a popular choice in recent years.
1… The two styles go together like peanut butter and jelly
Cowboy boots are known for their pointed toes… high heel… and decorative stitching… Bell-bottomed jeans are known for their wide legs and flared cuffs… Together… these styles make a powerful fashion statement that's both bold and stylish… It's a combination that can't be beaten.
2… A pair of cowboys boots will help you stand out from the crowd
Everyone loves bell-bottoms — they're comfortable and easy to wear… so it's no surprise that they've made a comeback in recent years… If you want to go beyond basic black or blue denim bell-bottoms… consider pairing them with a pair of cowboy boots instead of sneakers.
3… They play up the boho vibes
Cowboy boots and bell bottoms are a match made in heaven for bohemian lovers everywhere (aka free spirits who can't be tamed)… Bell bottoms have a way of making anything look like it came from a secondhand shop in San Francisco during the Summer of Love — even if you're wearing them with Nikes and a T-shirt… Cowboy boots make this even more obvious… as they were practically designed to be worn by hippies.
What Shoes to Wear with Bell Bottoms Jeans?
Bell-bottom jeans are a great way to look stylish and trendy… Here are 10 shoes that you can wear with your bell-bottom jeans.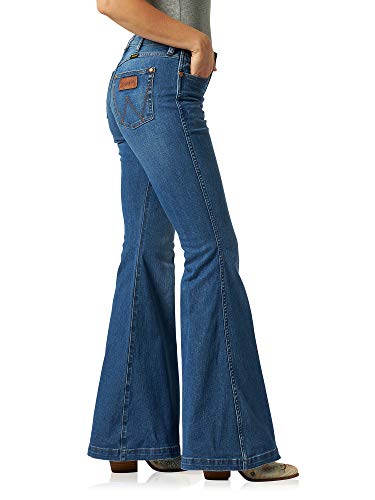 Flats. Flats are an easy choice for bell-bottom jeans… and they come in so many different styles… colors… and designs… You can choose anything from ballet flats to espadrilles to summer sandals.
Heels. A pair of high heels will always make you look elegant… With bell-bottoms… a pair of thin heels or stilettos will work best… If you want to add some height but don't want to wear thin heels… chunky heels are also a good option.
Boots. Boots go with bell-bottoms just as well as they do with skinny jeans… Choose short boots if you want something that hits just below the ankle… or opt for knee-high boots if you want more coverage for the cold weather months.
Sneakers. Bell bottom jeans will make sneakers look more fashionable than usual; just make sure that the cut of your jeans doesn't cover up all of your sneakers!
Booties. Booties are a good choice for the fall and winter months because they're often made of thicker materials that keep your feet warm… Pair them with cropped pants or ankle
Ankle Strap Heels. If you love the comfort of heels but don't like wearing high stilettos… then ankle strap heels are perfect for you… They come in all different styles and colors… so it's easy to find a pair that looks great with flared jeans.
Flat Sandals. One way to make your legs look longer is by wearing flat sandals… This also allows your flares to peek out beneath your pant legs… which helps draw attention to this trendy style of jeans.
Classic Pump. The classic pump is one of the most versatile styles of shoe and pairs well with bell bottoms… It has a sleek design that is easily dressed up or down… and it's comfortable enough to wear all day long.
Cowboy Boot. Cowboy boots have a rugged style that's perfect for jeans… but they can also have a feminine flair when paired with the right outfit… If you're going to wear them with bell-bottoms… opt for a low-heeled pair — or try a wedge boot — so they're easy to walk in.
Mary Jane. The Mary Jane is a retro shoe that's making a big comeback among fashionistas… and it's ideal for wearing with bell-bottoms thanks to its simple design and low heel… It can dress up an outfit… but it's still comfortable enough for everyday wear.
The trick to wearing bell-bottoms is finding shoes that are stylish… comfortable… and wide enough to fit your pants underneath… The most flattering shoes will have a pointy toe so your feet aren't wider than the bottoms of your jeans… They should also be high-heeled or wedged to give you some extra height and keep your jeans from trailing on the ground.
What Shoes to Wear with Bell Bottoms in Winter?
While it's not uncommon to see bell-bottoms paired with heels or boots in the spring and summer… you need a different shoe choice for winter.
A boot with a smaller heel is the perfect way to wear your favorite pair of bell-bottoms during the winter months without looking out of place… A small heel will look great with wide-leg pants like bell bottoms… but won't make it difficult to walk around in snowy weather or slushy streets.
A small heeled boot can also be paired well with an oversized sweater or jacket… making it an easy way to stay warm and fashionable all winter long.
Booties
Booties are the perfect shoe for winter and look so cute paired with bell bottoms… They're short enough that they won't cover up your pants too much… but still offer a lot of warmth.
This first look is casual and comfortable for everyday wear… The black booties offset the blues in the shirt and jeans… while the patterned scarf adds some interest to the look… Throw on a leather jacket for a cool… edgy vibe.
For something a little more dressy… try pairing black booties with a bright blouse and dark wash bell bottoms… This look would be perfect for date night or lunch with friends!
FAQs: What Shoes to Wear with Bell Bottoms
When it comes to fashion, everyone wants to make a statement. Bell bottoms are a classic piece of clothing that can make your outfit pop. However, choosing the right shoes to pair with this style can be a little tricky. To help you navigate this fashion dilemma, we have compiled a list of frequently asked questions about what shoes to wear with bell bottoms.
Are Bell Bottoms Still in Style?
Absolutely! Bell bottoms have made a comeback in recent years and are now considered a trendy wardrobe staple. They are a versatile and comfortable piece of clothing that can elevate any outfit.
Can I Wear Flats with Bell Bottoms?
Yes, you can wear flats with bell bottoms. In fact, flats can be a great choice for a comfortable and casual look. However, it's essential to consider the length of your bell bottoms. If they are too long, they may drag on the ground and ruin the look. In this case, you may want to consider wearing heels or wedges.
What Heel Height Is Suitable for Bell Bottoms?
The heel height you choose to wear with your bell bottoms depends on your personal preference and the occasion. Generally, a low to medium heel height looks best with bell bottoms. You can choose from wedges, block heels, or chunky heels to give you a little lift without overpowering the outfit.
Can I Wear Sneakers with Bell Bottoms?
Yes, for a casual and comfortable look, you can wear sneakers with bell bottoms. However, it's essential to choose the right style of sneakers. Classic white sneakers or retro Adidas sneakers are both great options that will elevate your bell-bottom look without overpowering it.
Can I Wear Sandals with Bell Bottoms?
Yes, sandals are a great choice for a bohemian or beachy look. Choose sandals with a strap that wraps around the ankle or a pair of gladiator sandals to add an edgy touch to your outfit.
Should I Tuck My Shirt In with Bell Bottoms?
It depends on the style you are going for. If you want a polished and put-together look, tucking in your shirt can help accentuate your waistline and lengthen your legs. However, if you prefer a more relaxed and casual look, you can leave your shirt untucked.
Can I Wear Boots with Bell Bottoms?
Yes, you can wear boots with bell bottoms. A pair of ankle boots or chunky boots can elevate your outfit and add a touch of toughness to your look. However, it's essential to ensure that your boots fit properly and don't cover up too much of the bell bottoms.
What Colors of Shoes Go with Bell Bottoms?
The color of shoes you choose to wear with your bell bottoms depends on the color and style of your outfit. Neutral colors such as black, brown, tan, and white are safe choices that can work with a variety of colors. You can also add a pop of color with bright or bold shoes to make a statement.
In summary… Bell bottoms are one of the most popular trends… They are stylish… they look great on every body type and they are quite versatile… too.
It is quite difficult to find a pair of jeans which will look good on almost everyone… but if you have a pair of bell-bottom jeans in your closet… you know that you have something which will always be fashionable and trendy.
Categories Shoes Tags Wear

report this ad
Recent Posts
Can You Wear Thigh High Boots in Spring?
Can You Wear Vans to the Gym?
Can You Wear Boots to a Wedding
Can You Wear Hey Dudes With Shorts?
Can You Wear Black Shoes With Navy Pants?
report this ad report this ad
Affiliate Disclosure: "As an Amazon Associate I earn from qualifying purchases made from the images and links in this post. We are a participant in the Amazon Services LLC Associates Program, an affiliate advertising program designed to provide a means for us to earn fees by linking to Amazon.com and other affiliated sites."