How to Spot Fake Crocs and Best Places to Buy Real Sandals
Please subscribe to our newsletter to receive updates from Your Next Shoes. This post may contain affiliate links. Please see our disclosure for more details.
Crocs. They're one of the most controversial shoe designs in recent history, but they wouldn't still be around if they didn't have such a devoted fan base.
These comfortable clogs were invented in the early 2000s for boaters, but quickly invaded the fashion world a couple of years later.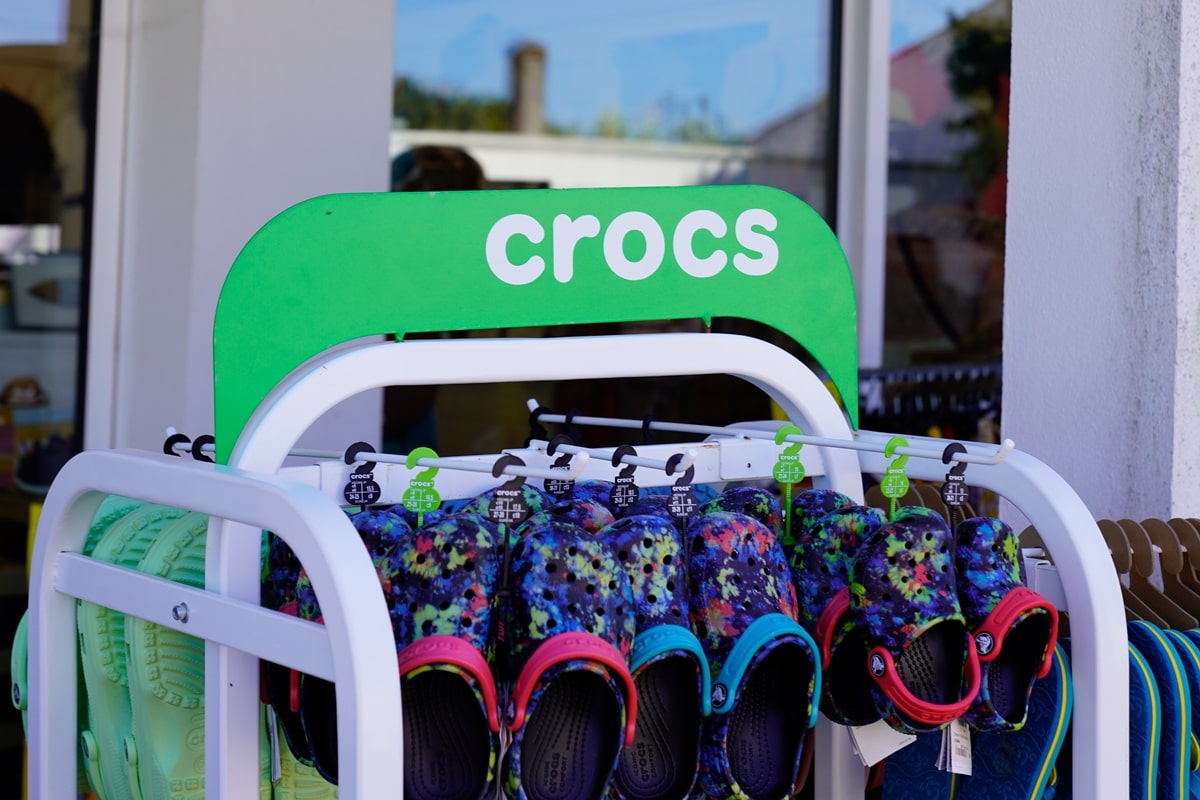 Crocs is an American footwear company known for comfortable, easy slip-on shoes (Credit: sylv1rob1 / Shutterstock)
Although clogs are often called the world's ugliest footwear, Crocs clogs definitely have an army of fans and followers who adore them due to their comfort and practicality.
Wearing them at home just makes sense. They're easy to slip on, are comfortable, very lightweight, and easy to clean. But most people avoid wearing them outdoors, as they aren't exactly that stylish.
"I remember just going to so many events, really big events, and wearing shoes that were beautiful and lovely to look at but by the end of the night my feet hurt so much I could think of nothing else other than how much my feet hurt," Crocs ambassador Zooey Deschanel told Us Weekly about the importance of wearing comfortable footwear.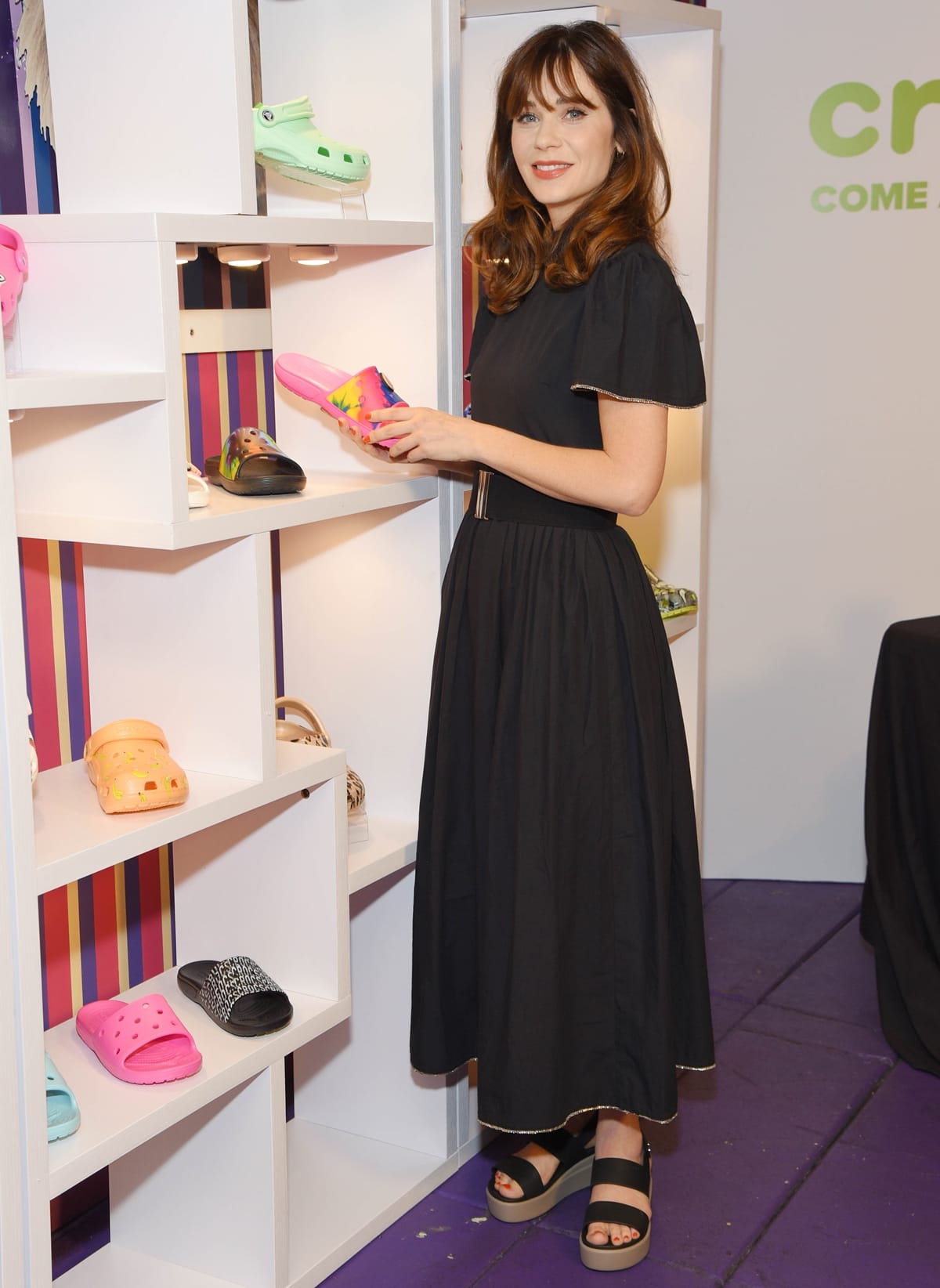 Zooey Deschanel says her trendy Crocs Brooklyn low wedge sandals are cute and classic (Credit: Michael Simon / Startraksphoto)
"I still wear heels sometimes, but a lot of times I go to events in flats," she added. "And for my everyday life, I really like to have comfortable shoes otherwise I'm thinking too much about how much my feet hurt and I don't want to be."
"I feel like I'm walking on a pillowtop," she explained. "It's really comfy but it's also cute and classic. Like this one I can wear with everything," she said about her favorite Crocs Brooklyn sandals, which you can buy on Amazon.
Crocs ambassador Zooey Deschanel checks out some new clogs at Make Believe Sixty LES on October 16, 2019, in New York City (Credit: Michael Simon / Startraksphoto)
Surprisingly, the relatively-affordable Crocs are so desirable, they're even counterfeited. Read on to get some insider information on how to spot fake Crocs, and make sure your comfy clogs are genuine.
Where are Crocs made?
Today, Crocs are made in Indonesia, Bosnia, Romania, Argentina, China, Vietnam and India. Crocs previously owned manufacturing facilities in Mexico and Italy, but closed those down in 2018.
"[T]here have been multiple media reports that Crocs is winding down production in our owned manufacturing facilities," the company said in a statement about the closure of its factories in Mexico and Italy.
Crocs had hundreds of outlet stores and retail stores throughout the world (Credit: Opsorman / Shutterstock)
"While accurate, some people have interpreted that to mean that Crocs will no longer be making and selling shoes," the statement added. "Quite the contrary, Crocs will continue to innovate, design and produce the most comfortable shoes on the planet. As we streamline our business to meet growing demand for Crocs, we're simply shifting production to third parties to increase our manufacturing capacity."
In 2021, Crocs purchased the brand Hey Dude, also known for fashion-forward and comfortable footwear. Now a subsidiary of Crocs, Hey Dude is expected to be the company's fastest-growing and most profitable brand.
Crocs – an ultimate name for comfort
While sneakers still seem to reign supreme when it comes to comfort footwear, Crocs may be a close runner-up.
Die-hard Crocs fans wear the comfy clogs daily, for an assortment of reasons.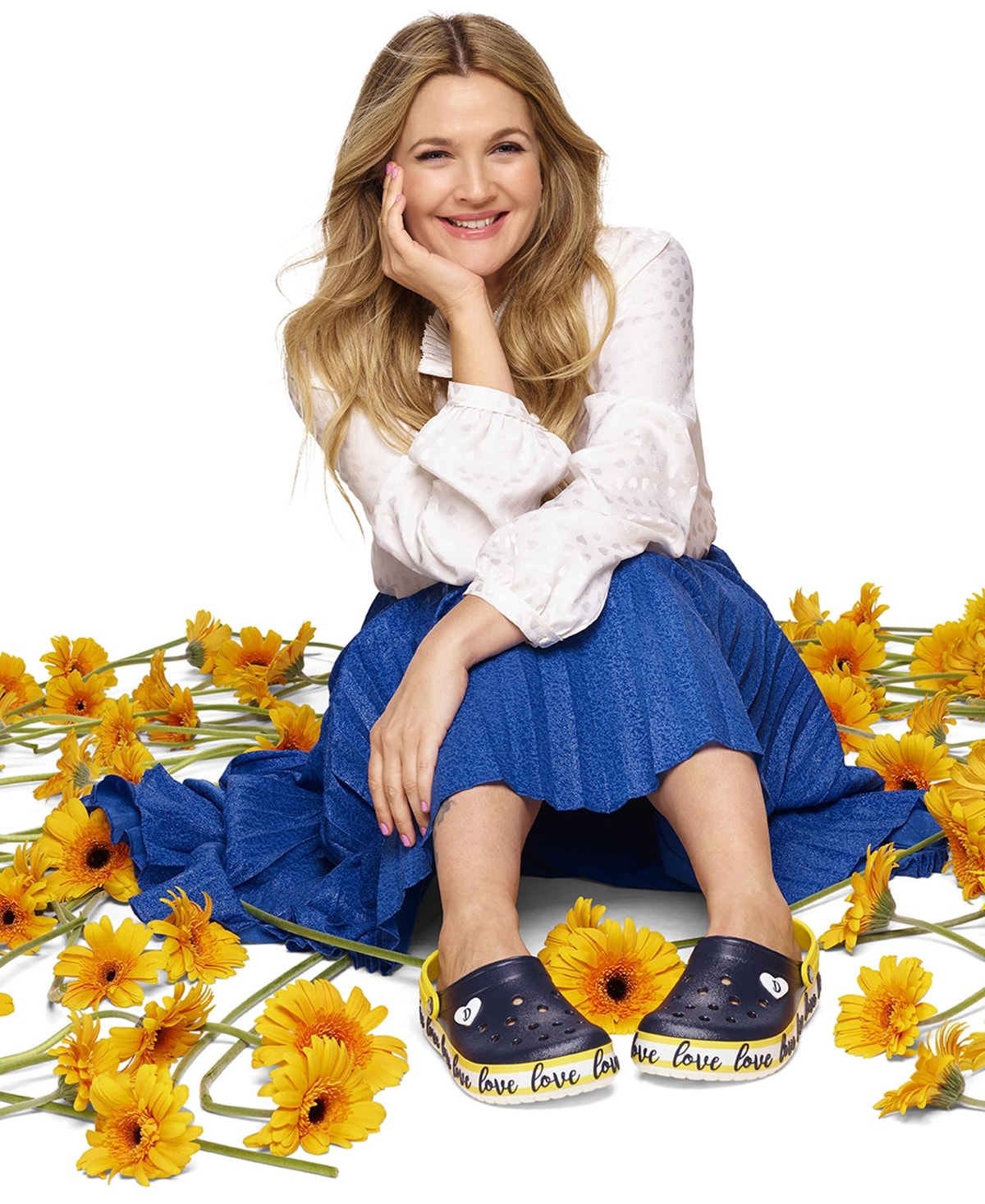 Crocs ambassador Drew Barrymore released a limited-edition shoe collection with styles for women and kids in 2018 (Credit: Startraksphoto)
Crocs was originally founded by Lyndon Hanson, George Boedecker and Scott Seamans in 2002, but is now a public company.
From the side, crocs resemble a crocodile snout, and they were originally designed to perform on both land and sea (Credit: Dinal Samarasinghe / Shutterstock)
As it turns out, all three founders had a say in the Crocs name.
While designing the shoe, Lyndon, George and Scott realized that — after adding the strap around the back of the shoe — their design resembled a crocodile's head from the side.
Why are Crocs so popular?
It's simple: Crocs are popular due to their comfort.
The design is breathable, comfortable, and non-slippery. Crocs are constructed from a patented resin, also known as the PCCR, that heats, softens and molds with body heat. This helps it adapt to the shape of the wearer's foot.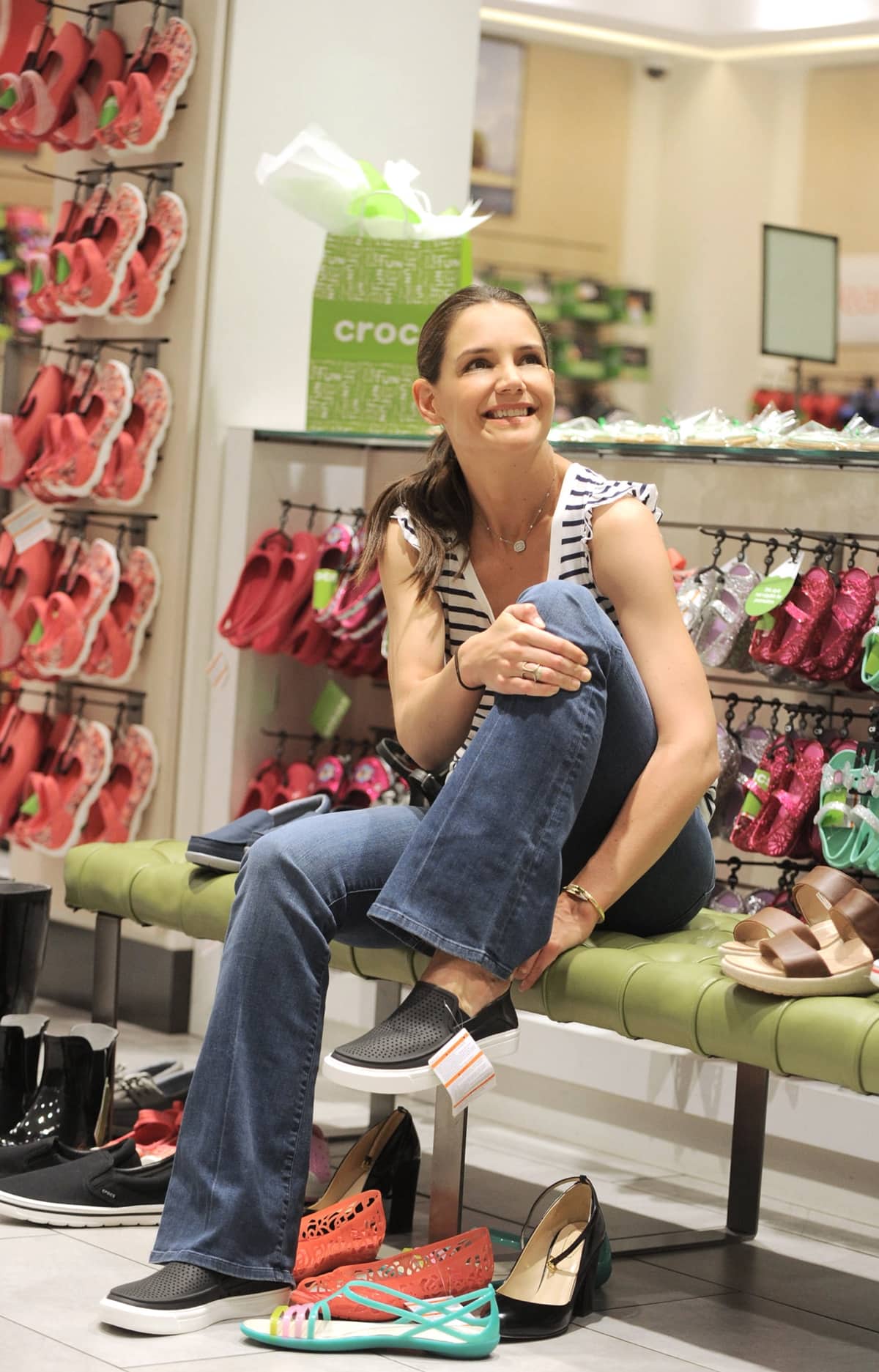 Katie Holmes stops by a New York City Crocs store to check out some new shoes on April 18, 2016 (Credit: Michael Simon / Startraksphoto)
Because the resin is made out of closed cells, Crocs are also antibacterial. This makes them resistant to different bacteria or fungi responsible for foot and shoe odor.
In addition to being comfy and smell-resistant, Crocs devotees describe these shoes as versatile. The most hardcore Crocs fans proclaim that you can wear these foam clogs both to the beach and on the red carpet.
Up until recently, it was unthinkable for us that someone could show up with a pair of ugly shoes on a red carpet, but Crocs are living proof that that can happen!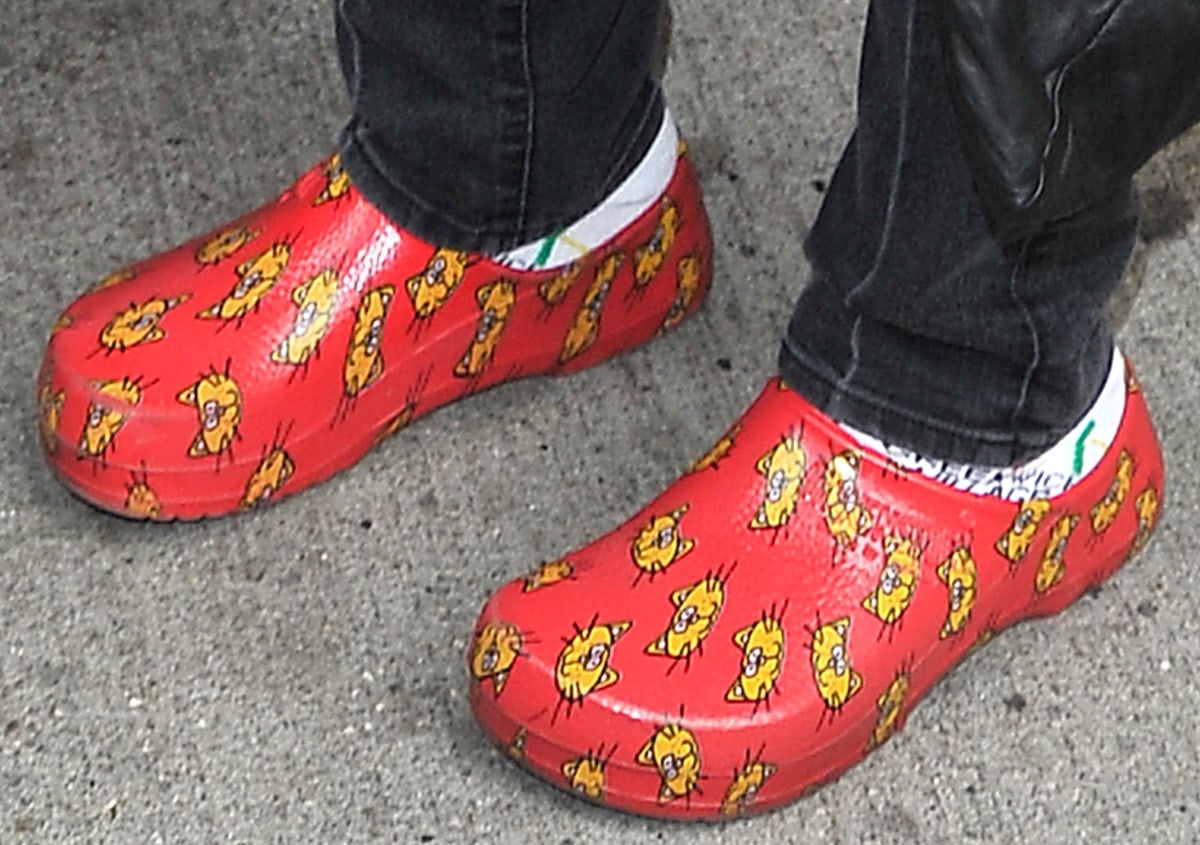 Whoopi Goldberg wears white socks with red cat-print Crocs sandals while attending the 2013 Tribeca Film Festival April 18 in New York City (Credit: Javier Mateo/startraksphoto.com / Shutterstock)
The COVID-19 pandemic also boosted the popularity of Crocs.
After months of confinement, people became used to working from home in comfy clothes, such as sweatpants and slippers.
Even after people started leaving their quarantine and isolation, the preference for comfortable clothing remained.
Given that Crocs fall in the "comfy clothes" category, it's no wonder the company saw a spike in sales in 2020.
Balenciaga teamed with Crocs to create a stiletto version of the recognizable clogs with plenty of holes and a logo-embossed strap to the rear (Credit: Crocs)
Crocs also took steps to boost it's product popularity by collaborating with popular musicians, influencers and designers.
For example, pop star Billie Eilish collaborated with Crocs, which marketed the clogs to a younger audience.
How to Tell Fake vs. Real Crocs
Spotting fake Crocs can be easy if you're skilled at identifying authentic Crocs.
Here are some tips to help you distinguish between counterfeit Crocs and the real thing.
1. Pay attention to the overall design
The basic Crocs design is fairly memorable. The brand's flagship design features 13 holes on the top of the shoe in addition to small bumps inside the shoe and around its external edges.
The footbed of real Crocs features comfortable little, tiny nubs that help prevent slipping and sliding (Credit: ZikG / Shutterstock)
The small footbed bumps serve as a circulation and comfort amplifier, and without them, the Crocs wouldn't be the same.
So, if a pair of Crocs you are dealing with doesn't have any, chances are they're fake.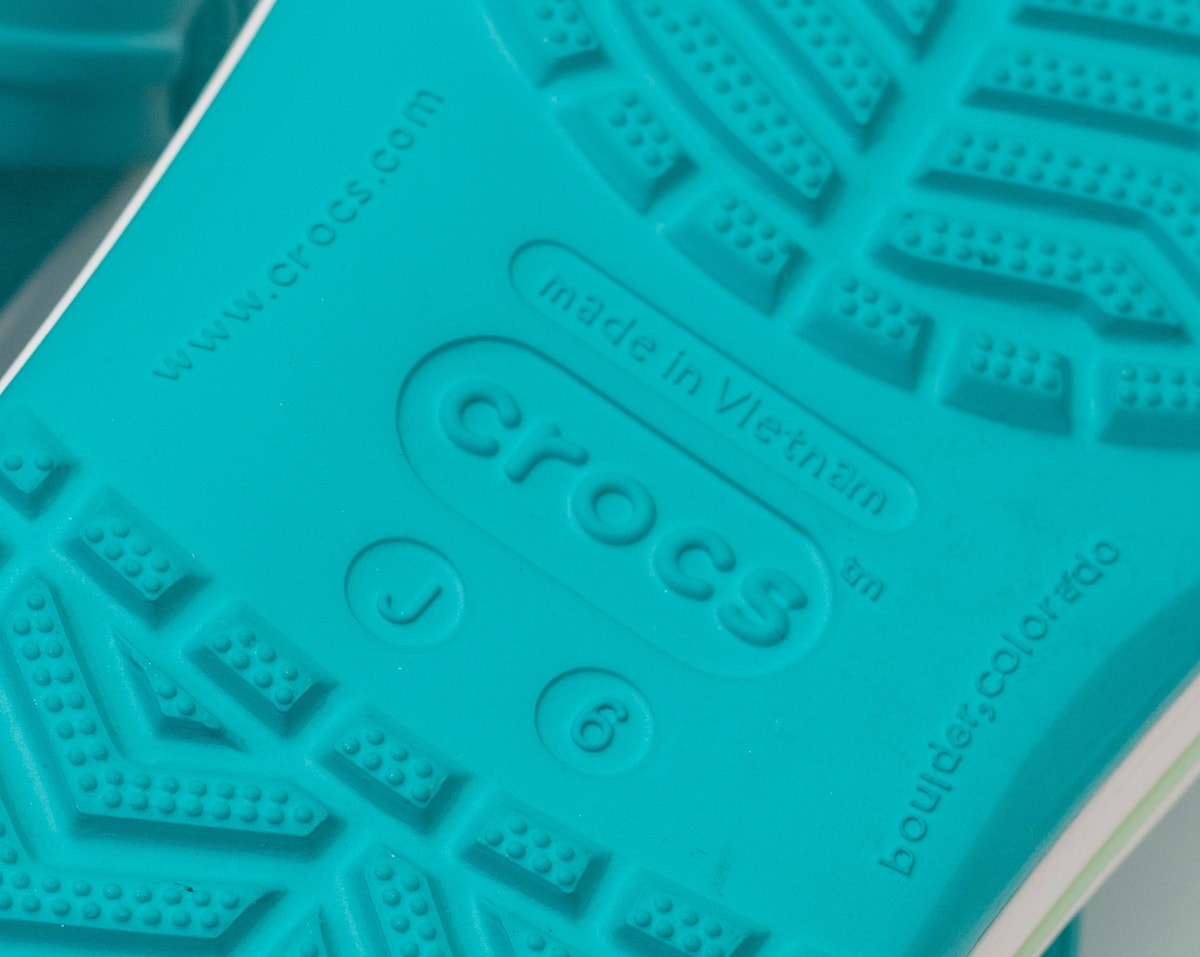 The sole of a real pair of Crocs will show you where the shoe was manufactured, sizing, website information, and that Crocs was founded in Boulder, Colorado (Credit: Avelina / Shutterstock)
Additionally genuine Crocs contain information on the outsoles about the manufacturing country, and feature a website code alongside the size.
If the Crocs don't have these, they're definitely fake.
2. Do Crocs designs have a logo?
Most people don't know this, but the name of the crocodile character in the iconic Crocs logo is Duke. The Crocs logo shows Duke silhouetted against a black background.
Called Duke, the Crocs crocodile logo was discontinued in 2019 (Credit: BalkansCat / Shutterstock)
Many fakes don't actually have a logo on them, and that is one of the key ways to tell the difference between authentic Crocs and counterfeit Crocs.
Red and blue Crocs shoes with the iconic Duke crocodile logo (Credit: ZikG / Shutterstock)
While some fakes do feature a Duke-emblazoned logo, it may not be replicated correctly. Look a little closer. Duke should have six spikes on his back. Some fakes miss this important detail.
3. The packaging is important
The original Crocs clogs come in branded box that features a sticker on the side printed with a barcode and other shoe information.
Additionally, authentic Crocs almost always come with both a dust bag and a transparent bag inside the box, just to keep them safe.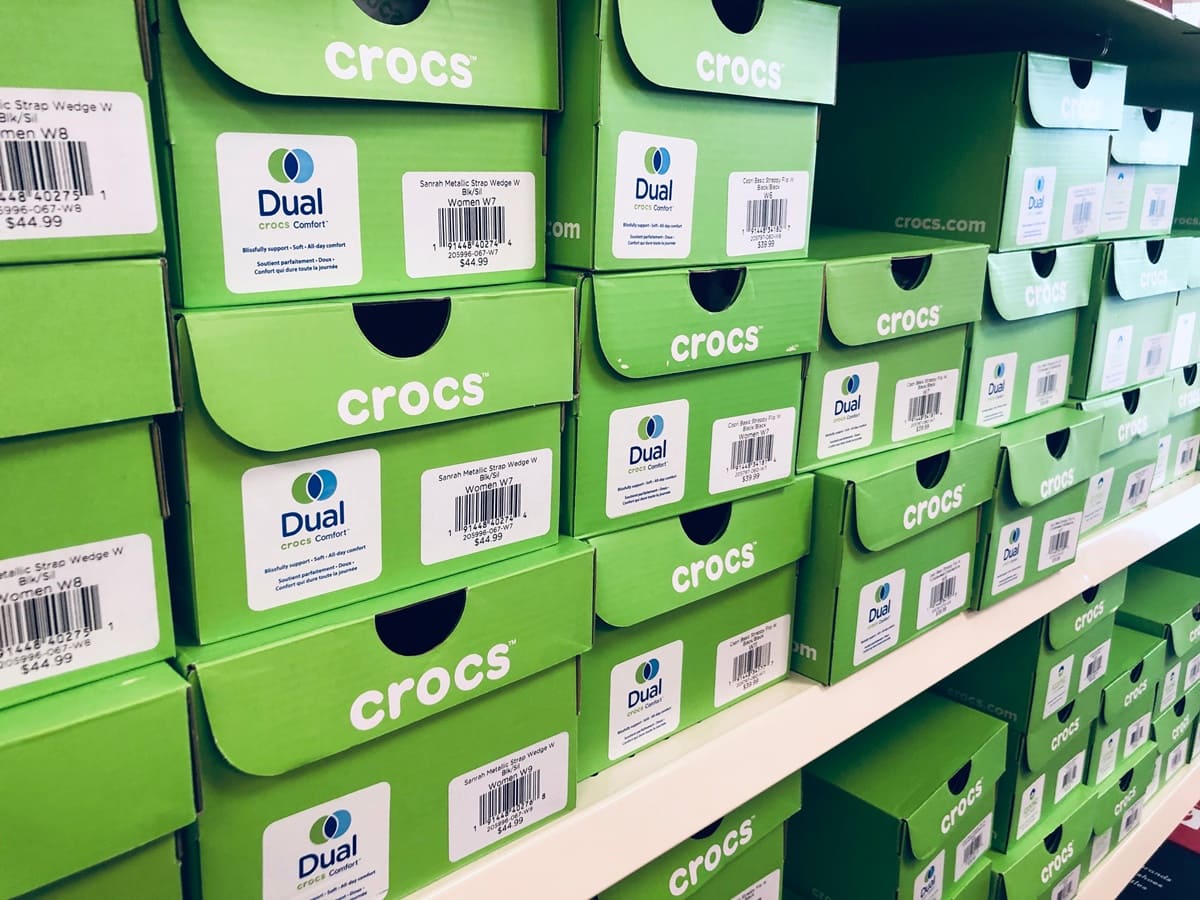 Crocs shoes in green, branded boxes at a shoe store (Credit: Melissamn / Shutterstock)
You can always use the barcode on the box to check the shoe authenticity.
4. Where to purchase authentic Crocs?
The best way to ensure you're getting an authentic pair of Crocs is by shopping at an authorized retailer.
The official Crocs website is the absolute best place to score your own pair of comfy clogs. Shopping via the Crocs website ensures brand quality — with absolutely zero chance at getting conned by counterfeit goods.
You can also buy authentic Crocs shoes at reputable retailers such as Nordstrom, Amazon, Kohl's and DSW.
Crocs are here to stay
Like it or not, Crocs are here to stay. The trend toward comfortable clothes coupled with the lasting effects of COVID-19 have more and more individuals seeking practical footwear over uncomfortable statement pieces.
If you decide to jump on the Crocs bandwagon — or if you're already a devoted fan looking to score a second, third or fourth pair of these colorful kicks — make sure you use the tips above to make sure you're getting a genuine Crocs product for your money.
DO YOU LOVE SHOES? Win free shoes, organize your shoe closet, see the latest styles + more