How To Wear Pink Shoes: 6 Chic Outfits With Pink Heels
Please subscribe to our newsletter to receive updates from Your Next Shoes. This post may contain affiliate links. Please see our disclosure for more details.
Pink is the color of summer, but some of us are struggling to break away from the classic blacks, whites, and nudes that we are all so comfortable with.
Kim Kardashian leaving Nobu in West Hollywood on April 18, 2012 / Jennifer Lopez at BBC Radio 1 studios in London on May 30, 2013 / Miley Cyrus at the 2012 People's Choice Awards in Los Angeles on January 11, 2012 / Victoria Beckham at Marc Jacobs and heading for lunch at Pink Taco in Century City mall on May 27, 2008
If you need ideas on how to wear pink shoes, these fashion bloggers and celebrities will show you how to break out of that shoe comfort zone and rock this season's hottest trend. Also, make sure to check out our favorite pink shoes for women!
1. Pair Pink With Prints
There is a saying that goes "go hard, or go home," and this outfit fits the bill! Loud pink sandals are complemented by an equally loud print dress.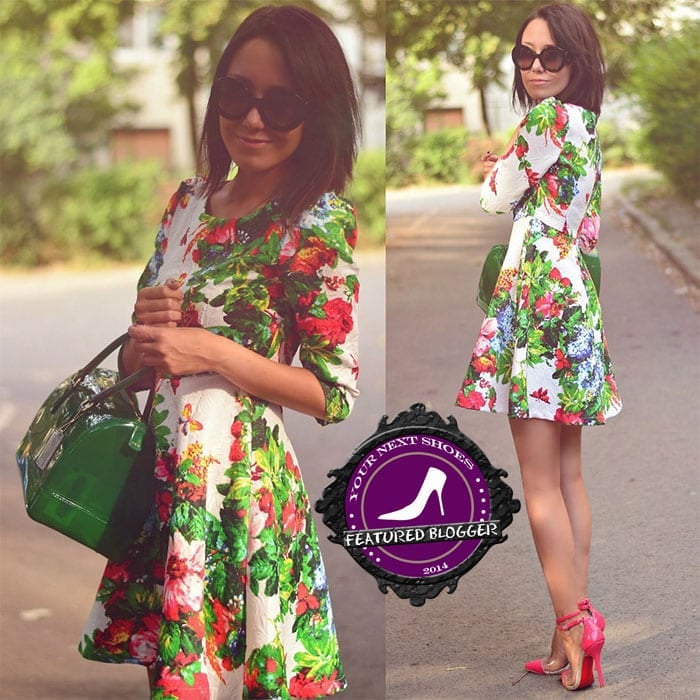 Paris shows how pink sandals can be complemented by an equally loud print dress
If you're going for this look, Paris of J'adore Fashion, make sure you stick to a print that features the same tone of pink as your shoes to avoid looking too garish.
Paris pairing a green printed dress with pink Voleta ankle-strap pumps
2. Tone It Down with Neutral Tones
When you're not quite ready to stand out too much yet, then a neutral color palette will keep you looking elegant and classy.
Marketa in black pants and a khaki shirt with neutral-pink studded Mango sandals
As Marketa Bartova knows so well, an understated, paler pink will add to this effect beautifully. Her blog is unfortunately no longer available online.
Marketa shows how paler pink heels can be easier to style
3. Match It Up
Accessorizing delicately with a belt, a bag, sunglasses, or even a shirt that color-match your pink shoes is an effortless way of appearing put-together and ready to face anything.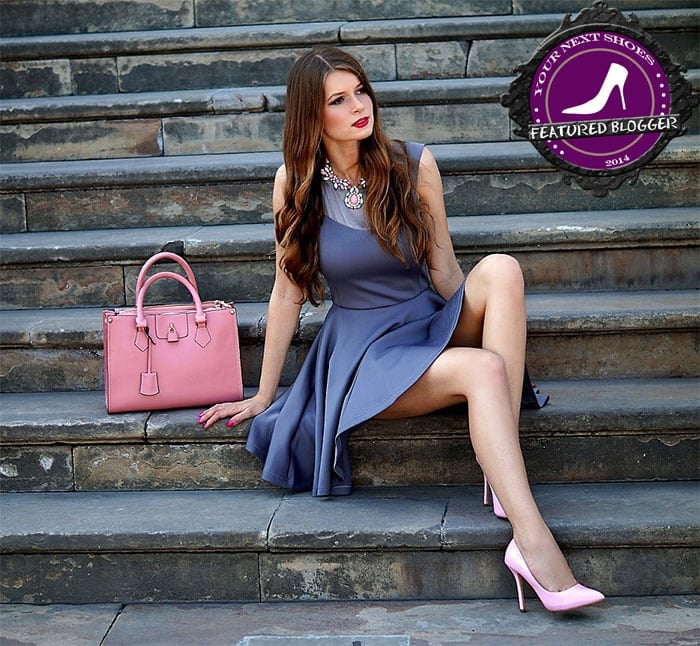 Zoya shows an effortless way of appearing put-together
Zoya of Only My Fashion Style shows how this technique also allows you to work the pink shoe trend without drawing too much attention to your feet.
Zoya matching a pink handbag with pink Labotti pumps
4. Mix It with Monochrome
On the other hand, if you wish to make your shoes stand out, then a monochromatic outfit will do just that. A black-and-white ensemble is both classic and on-trend, and it allows your pink statement shoes to steal the show.
Christane's blog, 'Diaries of Kris', is unfortunately no longer available online.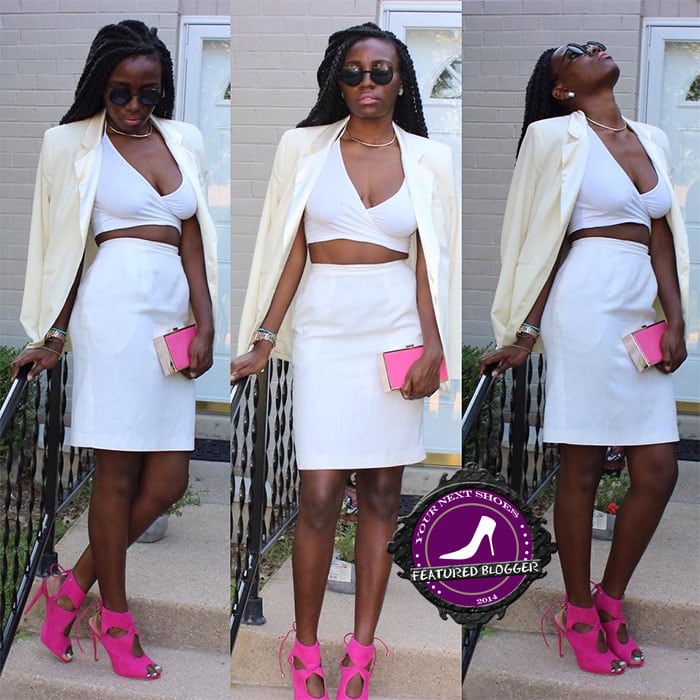 Christane contrasting an all-white outfit with pink JustFab heels

5. Dial It Down with Dusty Pink
If you're not loving the hot pinks or corals of the season, then try styling a muted pink. This look is chic, simple, and modest and can be worn by anyone.
Elaine's blog titled 'Romantic Fawn' is no longer available online.
Elaine in a little white dress and dusty pink Charlotte Russe wedges
6. Pair Pink with Pink Shoes
Jourdan Dunn in a strapless pink dress at the Vogue x Tiffany & Co BAFTA Afterparty held at Annabel's private members' club in Mayfair, London, on February 18, 2018
Jourdan Dunn styled her pink "Douce Du Desert" pumps from Christian Louboutin with a matching strapless dress that showed off her supermodel figure.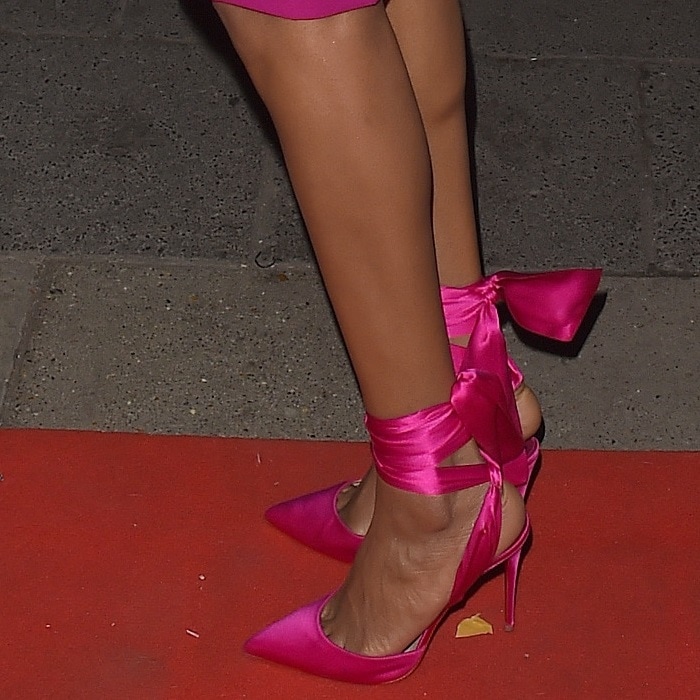 Jourdan Dunn wearing pink "Douce Du Desert" pumps from Christian Louboutin
If you're looking for a new pair of pink shoes, you can find some amazing styles at Kim Kardashian's ShoeDazzle for just $10.
Pink 'Colina' T-Strap Wedges, $10 at ShoeDazzle
Who do you think looked best in pink heels?
Credit: Hailey-R / WENN / Apega / Will Alexander
DO YOU LOVE SHOES? Win free shoes, organize your shoe closet, see the latest styles + more