Why Does Megan Fox Have Toe Thumbs or 6 Fingers?
Please subscribe to our newsletter to receive updates from Your Next Shoes. This post may contain affiliate links. Please see our disclosure for more details.
Megan Fox is undoubtedly a beautiful woman. She's been modeling since the age of 13 and even earned FHM's "Sexiest Woman Alive" title in 2008.
Her stunning looks have earned her a lot of attention over the years, but so have her toe thumbs. People love to fixate on flaws, and Megan Fox's flaw happens to be shortened thumbs from a condition known as brachydactyly.
The reason Fox has toe thumbs
Brachydactyly is an inherited condition that results in unusually short bones in the fingers and toes. There are different types of brachydactyly, but Megan Fox has type D which only results in a shortened thumb while the rest of her fingers are normal.
The shape of Megan Fox's thumbs is due to a condition called brachydactyly
In certain photos, it's easy to see the condition. Her thumbs are a lot stubbier and flatter than the rest of her fingers, often making them look similar to a toe rather than a finger. Despite rumors to the contrary, she does not have six fingers.
The stubby thumbs look a little weird, but they don't actually cause any functionality issues. One reason a person might have problems with their stubby thumbs is if they wanted to be a professional pianist since longer digits typically make playing easier.
Other than that, the only other drawback of toe thumbs is the constant comments from internet trolls.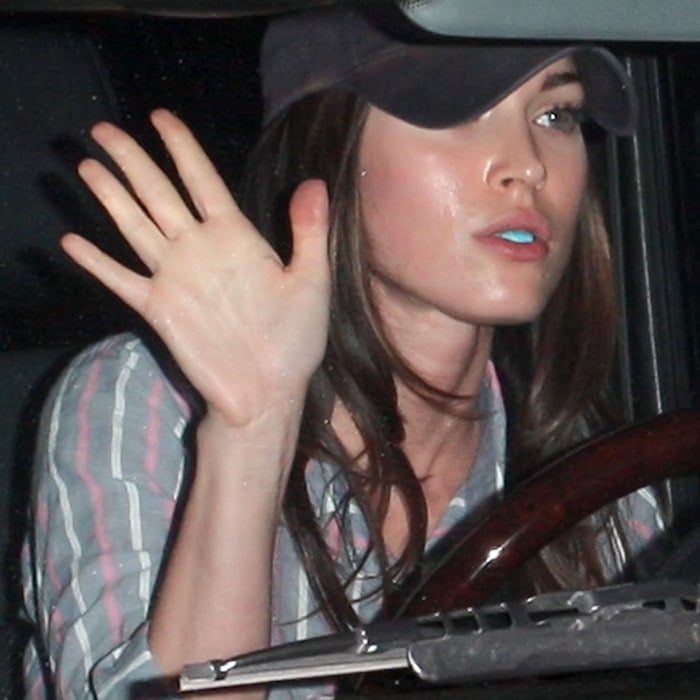 Megan's thumbs are kind of shaped like toes
It's also unclear what exactly causes the brachydactyly condition. It's possible that toe thumbs and other forms of shortened digits are the result of exposure to certain medications a mother takes while pregnant.
Another possibility is stubby thumbs are caused by blood flow problems to the hands, especially when babies are developing.
In either case, treatment of this condition is normally not necessary. Only severe cases of the condition would cause grip problems or require surgery.
Fox's thoughts on toe thumbs
Megan Fox isn't really a fan of her thumbs, but she's not ashamed of them, either. She described them as "weird" and "really fat" on the Jay Leno show, but other than that, the Transformers star doesn't really talk about her shortened thumbs.
She also doesn't make any effort to hide her hands when she's doing interviews or making other appearances, so while other people might fixate on her shortened digits, Fox does not.
It's pretty obvious she has nothing to be embarrassed about, either. People online might give her a hard time, but it's just because they feel the need to limit her beauty.
The medical term for Megan Fox's slightly misshapen thumb is brachydactyly
Sure, her thumbs look a little different, but that doesn't change the fact that she is still gorgeous. In fact, her little imperfections actually make her more relatable.
Everyone has flaws and other unique features. These differences are what make people interesting. In some cases, like Megan Fox and her brachydactyly condition, an apparent flaw can even teach you something new.
It's easy to be critical of imperfections but instead of criticizing a difference, we should celebrate it. It's OK to be flawed, and we should love ourselves and each other just the same no matter the difference.
Megan Fox during an appearance on TBS's 'Conan' in June 2016
In August 2014, Megan Fox told Entertainment Tonight that she and her husband, Brian Austin Green, were not having sex.
"Brian doesn't get any intimacy whatsoever," she commented in the interview. The reason was that their then two-year-old son, Noah, was co-sleeping with his parents.
To the New York premiere of her movie, 'Teenage Mutant Ninja Turtles', she donned a white/black color-blocked sketch jacquard bandeau top paired with a black/ivory oval-dot jacquard skirt, both from the Oscar de la Renta Resort 2015 collection.
Megan Fox at the premiere of 'Teenage Mutant Ninja Turtles' at AMC Lincoln Square Theater in New York City on August 6, 2014
The then 28-year-old actress accessorized with rings by Melinda Maria and Jamie Wolf.
She completed the outfit with black patent and mirrored gold leather sandals from the Giuseppe Zanotti Spring 2014 collection.
Megan Fox flaunts her legs in a sketch jacquard bandeau top paired with an oval-dot skirt
Do you like how Megan Fox styled her ankle-strap sandals?
They have unfortunately sold out online, but you can browse more recent releases from the same designer at Shopbop and Zappos.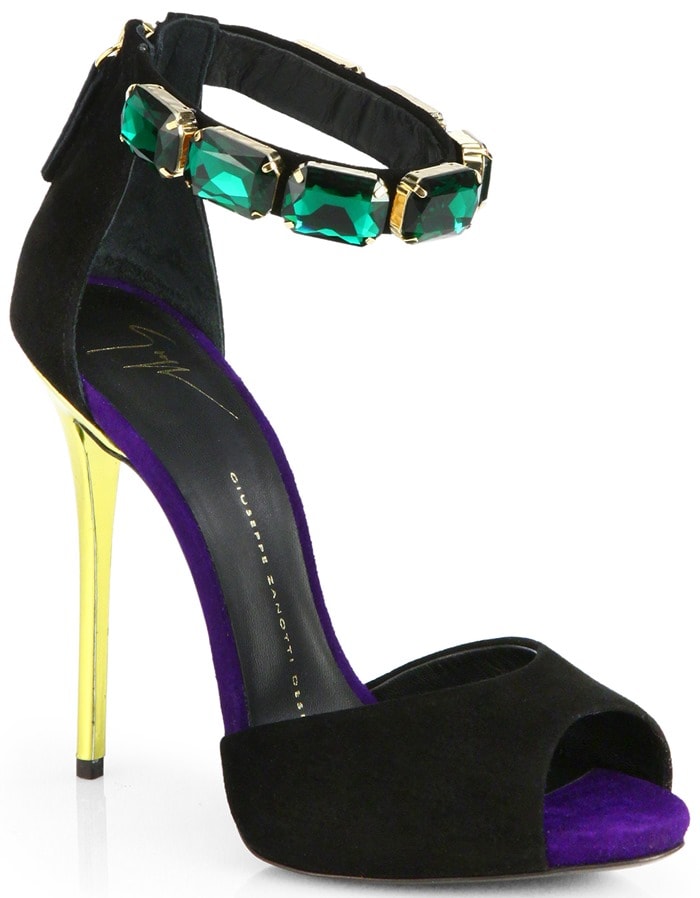 Giuseppe Zanotti Multicolor Suede Jeweled Ankle-Strap Sandals, $1,250
Giuseppe Zanotti Red Sandals, $1,495
Credit: Mr. Blue / WENN / HRC / STS