Short Rapper Lil Uzi Vert's Net Worth and Height Obsession
Please subscribe to our newsletter to receive updates from Your Next Shoes. This post may contain affiliate links. Please see our disclosure for more details.
"In reality, I'm 5'4", stand on my money now I'm 6'6," Lil Uzi Vert raps in his song Sanguine Paradise. The rapper has referenced his height in lyrics and on social media multiple times, leading to an apparent obsession with height.
Given his multiple references, it's easy to wonder, how does the short king compare to other rappers and men across the nation?
Who Is Lil Uzi Vert?
Odds are you've heard of Lil Uzi Vert. He's got quite the personality and shows it through unorthodox attention-grabbing methods. He's even claimed to have had a diamond implanted into his head.
Lil Uzi Vert is an American rapper and singer with a net worth of $25 million (Credit: WENN)
To casually own a diamond secured to your forehead, you have to have quite a bit of money. Lil Uzi Vert's estimated net worth is $25 million. In his case, a diamond-studded forehead makes sense.
The rapper released his first single in 2016 and has grown exponentially since. His fame truly sky-rocketed when he was featured on the hit song "Bad and Boujee" by the Migos.
Lil Uzi Vert Facts
| What is Lil Uzi Vert's net worth? | He is an American hip hop artist with a net worth of $25 million. |
| --- | --- |
| Full Name: | Symere Bysil Woods |
| Born: | July 31, 1995, in Philadelphia, Pennsylvania's largest city |
| Kids: | None |
| Who is Lil Uzi Vert in a relationship with? | In October 2019, he started dating American hip hop singer JT (born Jatavia Shakara Johnson in December 1992). |
How Does He Stack Up?
Lil Uzi Vert's net worth is tall, and he knows it. He often uses this fact, paired with his short height, to create funny and catchy lyrics.
Symere Bysil Woods also tweeted in 2014, before he made it big, "they say I'm up next… Hope that shit true. I'm 5'4". I hope the money from the deal 6'2." Looks like the rapper had an accurate feeling about his future career.
Lil Uzi Vert uses his 5'4″ height to write catchy lyrics (Credit: Adriana M. Barraza / WENN)
Using his height in his lyrics leads to catchy, funny verses. As a 5'4" man, Lil Uzi Vert comes in 5 inches below the US male height average of 5'9".
He uses his height as an advantage to draw attention to himself. It's a pretty smart move and a unique fact, considering the tall national average.
Money Doesn't Discriminate by Height
Lil Uzi Vert would get lost in a crowd of average US males, but there are a fair number of rappers that match up to Lil Uzi Vert's height. Fellow rapper, Kanye West, falls under the national average at 5'7".
Lil Uzi Vert is shorter than the average American male (Credit: Avalon / WENN)
Fans of West learned this fact in the song "American Boy," where singer Estelle says, "I just met this 5-foot-7 guy who's just my type." The music industry is no stranger to using height in lyrics.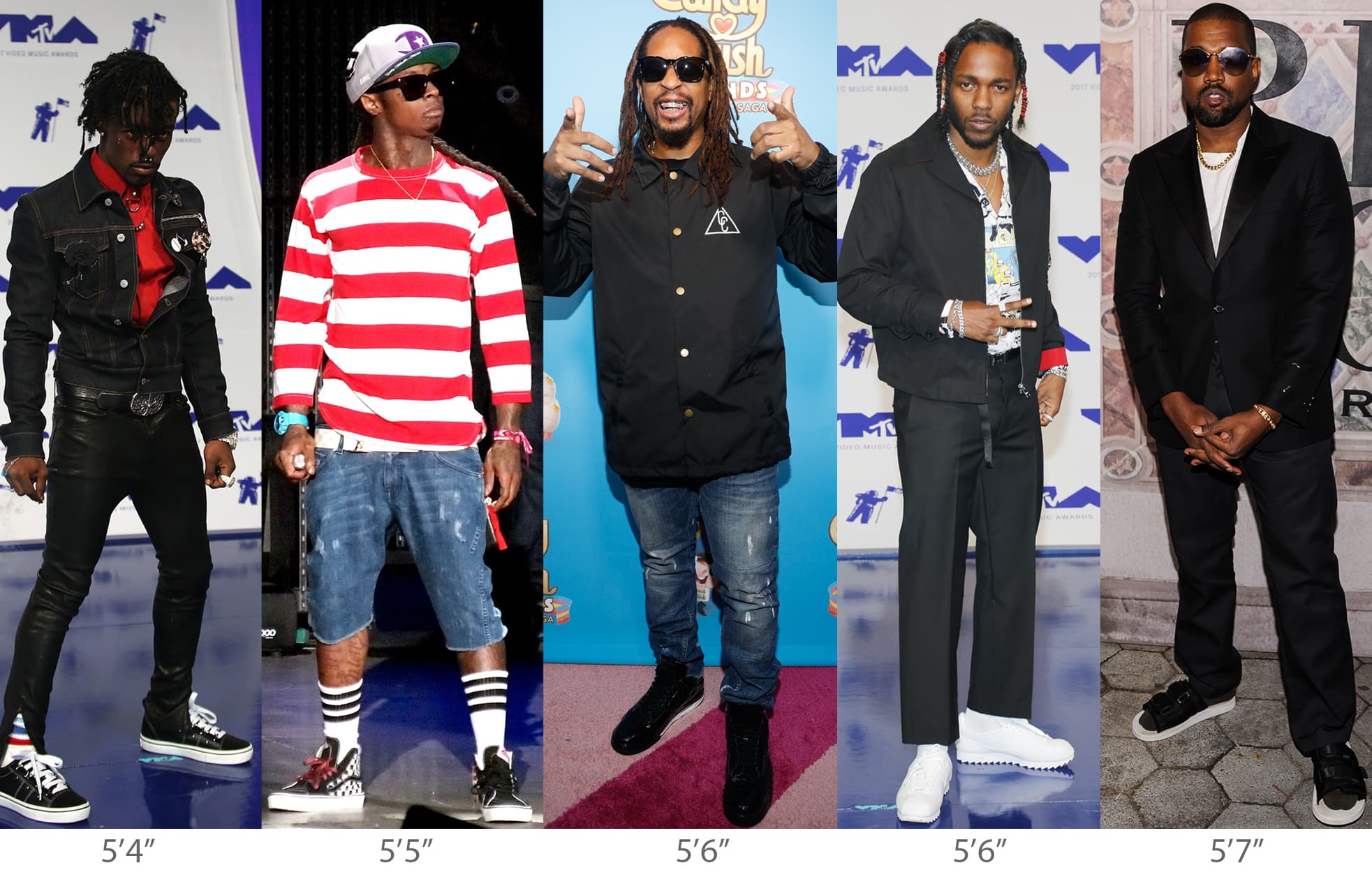 Popular rappers Lil Uzi Vert, Lil Wayne, Lil Jon, Kendrick Lamar, and Kanye West fall below the national average height (Credit: FayesVision / Jeff Grossman / Apega / WENN)
Lil Wayne, a notorious rapper, is also on the short end, at 5'5". Lil Jon and Kendrick Lamar stand at only 5'6".
There are plenty of tall rappers like Jay Z and J. Cole, but many of the most well-known rappers in the business are below the national average. Still, Lil Uzi Vert is one of the shortest rappers out there.
The Short Rapper Stays Ahead
Lil Uzi Vert uses his insecurities and societal downfalls as a marketing technique (Credit: Avalon / WENN)
Lil Uzi Vert uses his insecurities and societal downfalls as an advantage. The fact that the rapper is short has been used by Lil Uzi Vert as a marketing technique to grab attention.
We could all learn a thing or two about embracing what society deems unattractive and using it to our advantage.
DO YOU LOVE SHOES? Win free shoes, organize your shoe closet, see the latest styles + more