On Heels, Kelli Berglund's Makeup Tells a Story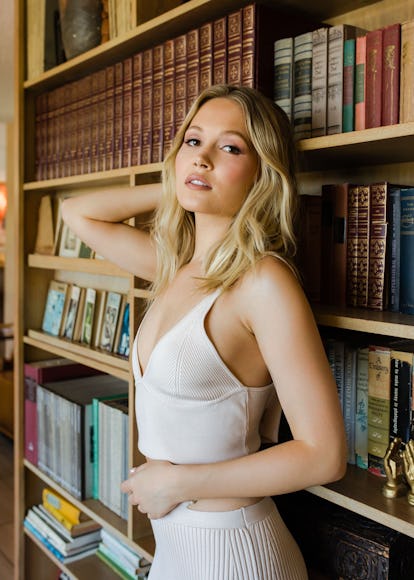 "Crystal Tyler has a quiet resilience to her," the actress Kelli Berglund says of the character she plays on the Starz cult hit Heels. "She is badass and she knows it—and knows that her time will come."
The description is just as apt for Berglund herself. The twenty-five-year-old is a multihyphenate of the highest order, with a background in dancing, gymnastics, singing, modeling, and acting, from her role in Disney XD's live-action comedy Lab Rats to playing Willadeene Parton, Dolly Parton's older sister, in Dolly Parton's Christmas of Many Colors: Circle of Love.
But the actress has found her footing in her latest project, Heels. The series tells the story of two professional wrestler brothers, Jack—who's known as a "heel," or villain in wrestling match storylines—and Ace Spade—the "face," or hero. As Crystal, Berglund plays what's called a "valet" to Ace: something of a manager-meets-love interest. "You instantly fall in love with Crystal, and want to root for her from episode one," Berglund says. "We see immediately how she's treated by the other people in this league; she is looked at as a lesser person." As the season progresses, however, opportunities come to Crystal, and her colleagues at start to look at her as a human being.
The character's story arc plays out in her hair and makeup looks, too, Berglund says. The actress worked closely alongside the glam teams to mark a noticeable transition in Crystal's sense of self. By the end of the first season, Crystal is primed to have a moment—but Berglund notes she doesn't have information on a follow-up season. "Trust me, I bug [showrunner and actor] Mike O'Malley about it every day. We're very hopeful—I'm eager to get back and start filming, like, yesterday." Below, Berglund shares her experiences in the makeup chair on set of Heels, her lack of experience in a spa, and the one trick she swears by to remove pesky glitter. And this is wrestling—there's a lot of glitter.
Tell me about the progression of Crystal's looks on the show. What kind of story does it tell?
Crystal is girl who has very limited financial means. She lives on a trailer park. She's not going to have the most flashy, glamorous, put-together outfits. In the beginning, it looks like she bought what she thought might look good and pieced it together—probably DIY'ed some of it. She starts out wearing muted colors that purposely don't flatter her skin tone or make her blend in amid these other characters' bright colors. In episode five, we see her come out with a full makeup look and bold outfit. She's finding herself among the chaos: She's more confident as time goes on, and that shows in the way that she acts, the decisions she makes, and the looks she's wearing.
When you're in the makeup chair on set, how much do you speak with the makeup artists about the looks that you're going for?
In my own life, I am a huge makeup lover; it's a hobby for me. When I first sat down with our makeup artist, Wendy Bell, we would spend hours in the makeup chair before the look ever went to screen, playing around with glitter and different colors.
When I read these scripts and saw that Crystal's going to be on this path of self-discovery, I was like, this needs to come through in the makeup. It had to be authentic, because she's not a girl who has gotten tons of makeup looks done on her for red carpets. She's probably watching YouTube videos and these female wrestlers on TV and seeing what their makeup looks like. It ended up being still very theatrical, colorful, and different, but from Crystal's perspective. So it's not going to be perfect. It's important in this world of theater that is wrestling.
Photographed by Brandon Moningka
Let's get into the Beauty Notes questions. What was one good beauty trick that you picked up on set?
When working with glitter, use tape to take it off. Instead of trying to go in with a makeup wipe that will further spread the glitter all over your face, use a piece of Scotch tape that you've put onto your arm a couple of times so it's not super sticky. That trick came in handy, especially with having to change makeup looks multiple times in a day to film different scenes. not good for continuity when it's a dramatic scene at home in my sweatpants and I've got glitter all over my face.
What's the first thing you do in the morning, beauty-wise?
I try to leave my skin alone for the most part. I don't overload it. I always use a spray sunscreen from Supergoop—it's the only one that doesn't irritate my eyes. I keep a travel-size bottle in my bag. I have very, very dry skin, so if I don't put something on my skin in the morning, it will feel tight throughout the day. I usually use a thick, heavy-duty moisturizer, like First Aid's Beauty Ultra Repair Cream.