Can Nurses Wear Crocs With Holes In Them?
The question of Nurses wearing Croc with holes is a very good one. In 2020, Crocs donated over 860,000 shoes to Nurses, surgeons, and front-line medical staff who were helping patients deal with COVID-19. There is also evidence that many health regions have "banned Crocs" from hospitals.
So, that being said, Can Nurses wear Crocs with holes in them?
Crocs with holes have been banned from some health regions around the world. However, some regions do still allow Crocs with holes to be worn by Nurses. There are Crocs available specifically for Nurses and medical workers, designed without holes that include added slip resistance and arch support.
There is no doubt that Crocs are a great pair of shoes that protect your feet. They offer enough comfort and protection to anyone's feet.
Crocs have been tested and approved by the US Ergonomics company and American Podiatric Medical Association. The US government's Center for Medicare and Medicaid Services approved Crocs as a fantastic solution for diabetics to reduce and prevent foot injury. (see Sources at the end of this post)
The controversy about Crocs being banned in various health regions started in the mid-2000s. In August 2007, the Regina (Canada) Leader reported that several Canadian hospitals banned Crocs with holes. These hospitals included the Vancouver Coastal Health, Ottawa Hospital, Hospital for Sick Children, Hamilton Health Services & Ontario Hospital Association, to name a few.
Also, in 2007, Sweden and the United States also had hospitals change (upgrade) their dress code to prevent medical staff, nurses, surgeons, etc. from wearing Crocs with holes. (Sources, see bottom of this page) The UK followed suit in 2011. (things move slowly in the UK apparently…)
Crocs heard the concerns and developed a line of Crocs specifically for medical professionals, nurses, and surgeons. If you want to see all these styles, please scroll down to the section that discusses Approved Crocs for Medical Professionals.
I've also written several articles discussing the best shoes for medical professionals, you can read more here.
11 Best Shoes for Nurses (Guide for both Men & Woman)
Best Shoes for Surgeons
11 Best Shoes for Nurses with Plantar Fasciitis
Most comfortable shoes for Nurses with High Arches
Best Crocs For Healthcare Workers
Why are hospital regions concerned over Crocs with Holes?
The main reason for the banning of Crocs with holes was to protect medical staff. In a hospital, some environments can be messy. Hemorrhaging blood from an infected patient could spill onto a Nurses feet and potentially cause a transfer of infection.
Needles could be accidentally dropped and fall through the holes of the Crocs causing accidental pricking. This could again transfer the unwanted infection to the Nurse (or medical staff).
These are valid concerns, therefore Crocs designed their Rx Crocs Line specifically without holes for Nurses, Surgeons, and other medical professionals.
Approved Crocs for Medical Professionals
There are several styles of Crocs shoes that have been designed specifically for Nurses. These styles include added arch support (for long days on your feet) as well as a "Crocs Lock" anti-slip sole to provide balance and grip on those "slippery when wet" hospital floors. Here is a list of Crocs for Medical Staff, Nurses & Surgeons!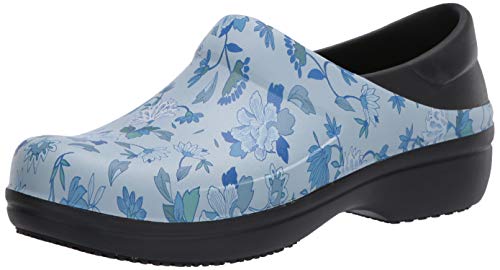 Crocs Neria Pro II Women's Clogs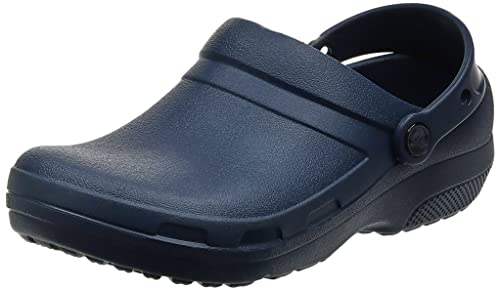 Crocs Specialist II Unisex Clogs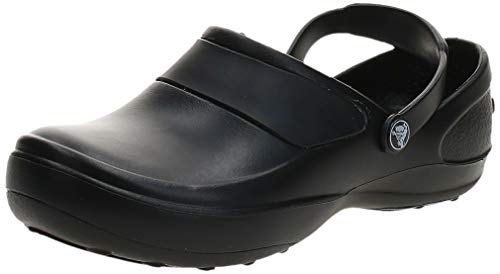 Crocs Mercy Work Women's Clogs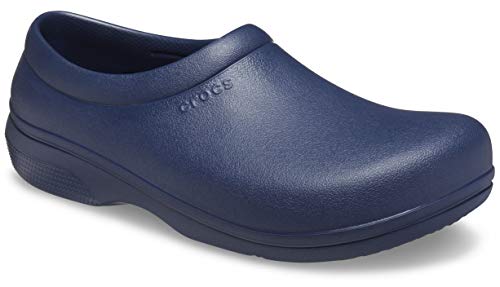 Crocs On-The-Clock Unisex Clogs
I've also seen some "be-dazzled" Crocs, like this pair of Red Starlight Crocs (found on Etsy, made by local artisans), which this nurse says she receives positive comments about them every day!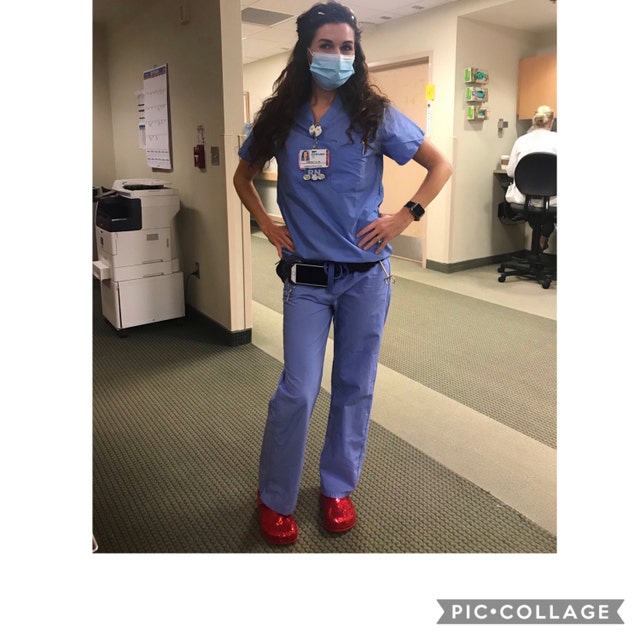 OK, so let's talk a little bit about the Crocs with holes. These clogs have not been banned by all regions, so if you prefer to wear a pair of Crocs with holes, then make sure you check with your health region.
If it was me, I'd opt for a pair of Neria Pro II. They generally don't cost any more than the Classic Crocs Clogs, but they have added slip resistance and additional arch support. Getting more for the same cost is just a no-brainer for me… But, it's up to you.
Are Nurses Allowed To Wear Crocs During Their Shift?
The good thing about Crocs is that anyone can wear them. So, whether you are a schooler or a medical practitioner, Crocs have received so much praise from Nurses and medical professionals, you definitely should give them a try.
Nursing is a profession that requires you to stand, walk, and run throughout the day. That's why you need a pair of footwear that will give enough support and comfort to your feet. Crocs without holes have become very popular among nurses and other medical staff because of the ease it offers.
Many nurses claimed that wearing Crocs makes them feel less strain on their back, hips, feet, heels, and calves.
Are Nurses Allowed To Wear Crocs With Holes?
It cannot be denied that Crocs became well-known footwear among nurses and other medical practitioners because of its slip-resistant soles and its unique closed resin foam. The foam is antibacterial, it doesn't absorb liquids, making them very easy to clean with just soap and water.
If you are a nurse looking to wear Crocs with holes to work, then check with your health region dress code. Some regions still allow this style of Crocs, but others do not.
Crocs Neria Pro II Literide Women's Clogs
Crocs Straps are like 4-Wheel Drive For Your Crocs
Many wear the Crocs strap across the top of the Clog, but some don't realize how useful the Crocs strap is, when you pull it back and over your achilles.
With the Crocs strap in place over the back of your ankle, your Crocs are locked in. Your foot won't slide around much, if any, and with this configuration, you'll notice added control. The Crocs are no longer a clog, but like a grippy runner.
That's why Crocs still offers the Specialist II Clog with the Crocs Strap. This provides some added stability to the shoe when you wear them.
Did Nurses Wear Crocs Footwear Before the Ban?
Yes, the reason for the controversy was that more and more medical professionals were choosing and wearing Crocs to work. Hospital administrators started noticing more and more people wearing brightly colored clogs and started to worry about the holes!
According to the experts, Crocs footwear with holes does not offer nurses enough protection from possible injuries because of sharp objects. That movement caused some change for the good.
Crocs came out with footwear specifically for medical staff. They enhanced the shoes that they were offering. The added arch support. They also added a more slip-resistant sole.
With change and controversy, there was born a new and better option for Nurses and medical staff! A win, win for everyone!
A lot of nurses love to wear Crocs footwear. This is because their Crocs are comfortable, they are slip-resistant and the unique closed-resin foam protects their feet and prevents bacteria from growing inside.
Crocs are popular because it comes with several features that could make anyone's long day on the feet less painful and tiring.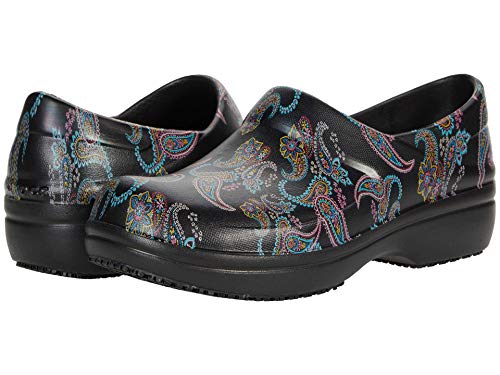 Crocs Neria Pro II Women's Clogs
Do Nurses Wear Socks With Crocs?
Is this one of those private questions… Do Scot's wear underwear beneath their kilt? Ok, maybe not quite.
Nurses can choose to wear Crocs with socks or without. It's probably better, especially over an 8 to 12-hour shift to wear socks to wick up any sweat and perspiration from your foot. Socks also prevent your foot from rubbing on your shoes and reduce blistering.
Although Crocs aren't known for blistering, if you wear any shoe for 12 hours, it's likely best to have some sort of cushiony barrier like socks.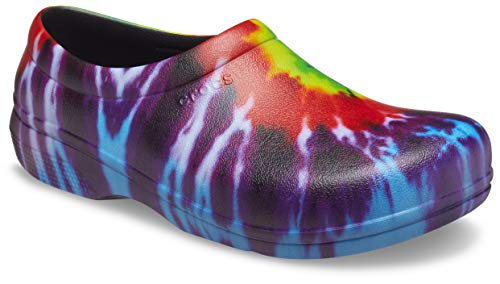 Crocs On-The-Clock Unisex Clogs
Crocs with holes will prevent sweating, however, the new Rx Crocs don't have holes, so feet will warm up in there more than with the classic clogs. But, it's really up to every individual's own personal tastes.
Crocs and socks have been worn by many including many celebrities. Prince George was recently seen playing with his mom wearing a pair of Crocs (and he had some socks on too). Justin Bieber has also been spotted wearing his Crocs with socks.
There are no rules that say wearing socks with Crocs is not allowed. Some people feel more comfortable wearing their Crocs with a comfy pair of socks.
Conclusion
Can nurses wear Crocs with holes in them? It depends. Check with your own health region, but also consider the other options for nurses. Hospitals allow nurses to wear Crocs without holes and the Rx style is designed specifically for nurses. Choose those!
As I mentioned at the start of this post, many hospitals around the world have enforced their dress code that bans the use of Crocs with holes.
Choose a pair of Crocs that will help support you on those long shifts!
Woman's Neria Pro II Clog
Specialist II Clog
Crocs Women's Mercy Work Clog
Crocs On-The Clock Medical Professional Slip-On
Crocs and Healthcare Related Articles
Best Crocs for Nurses
Can Nurses wear Crocs?
Can Nurses wear Crocs with holes in them?
Crocs For Healthcare
Best Crocs for Healthcare workers
Crocs Uses & Related Articles
Can you wear Crocs to school?
Can I wear Crocs to work?
Can you wear Crocs in the winter?
Can Crocs be used as shower shoes?
Can Crocs be worn outside?
Can Crocs be worn in the rain?
Can Crocs be used for running?
Sources
WikiPedia: Re: US Ergonomics Company, American Podiatric Medical Association & US Government Centers for Medicare and Medicaid Services statements about Crocs.
Regina Leader-Post: Canadian Hospitals banning Crocs with holes
Wired: Swedish hospitals ban Crocs with holes
Daily Mail: UK hospitals ban Crocs with holes
Macleans: USA hospitals ban Crocs with holes