Celebrities Wearing the Most Uncomfortable-Looking Shoes Ever
So, basically every pair of heels Lady Gaga has worn.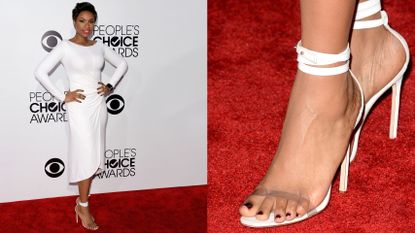 (Image credit: Getty Images)
published 17 July 2020
What's that old axiom? Ah, yes, the cuter the shoe, the harder it is to walk in. Celebrities like Kim Kardashian and Rihanna feel your pain—literally. Click through, ahead, to see your favorite stars wearing some of the world's most fashionable, but also most uncomfortable-looking shoes to exist.
Rihanna
At the 2017 Met Gala honoring Rei Kawakubo, our queen Ri showed up looking amazing—but we know these shoes were killer. I mean, just look at the wraps on these things.
Lady Gaga
In 2011, the queen of wearing uncomfortable shoes wore 24-inch platform. heels. to the CFDA Awards.
Sarah Jessica Parker
The Sex and the City star wore a pair of Louis Vuitton lion heels to the film presentation of I Don't Know How She Does It at the Ritz Carlton hotel—and really, we don't know how she does it wearing those pumps. Wondering what's it's like to walk around like a lioness? Uncomfortable.
Britney Spears
At the fourth-annual Hollywood Beauty Awards in L.A., the singer wore a dress that gave us major "Toxic" music video (opens in new tab) vibes. Unfortunately, it seems some of her toes didn't quite get the memo when it came to putting on the shoes (check out that poor pinkie toe!), but we've all been there at some point.
Madonna
When the queen of statements attended a screening of Filth and Wisdom in October 2008, the only suitable shoe choice would, of course, be Chanel pistol shoes. We would ask, "Why?" but the only fitting response would be, "Madonna."
Sarah Paulson
The American Horror Story actress wowed us at the 2018 Elle Women in Hollywood event with all of her accomplishments, but we still feel for her. We've all been that person wearing a shoe that your foot is a little too wide for.
Heidi Klum
At the America's Got Talent premiere in 2015, we gushed over how amazing the supermodel's legs look, but we also gawked at the fact that her toes were hanging over the edge of her shoe—and each other.
Jessica Simpson
In a mix of what seems to be ABBA band member-meets-cool mom vibes, Jessica Simpson's metallic platform boots are the statement shoe of our dreams. We just gotta know if the pain was worth the fashion statement.
Christina Hendricks
Mad Men and Good Girls actress Christina Hendricks wowed the Golden Globes carpet in 2008 in this emerald dress—but with gold jeweled shoes that look a little too small. Regardless, I would still like a pair.
Rihanna
RiRi posted a picture on Instagram (opens in new tab) wearing a pair of rhinestoned slouchy boots straight from the YSL 2017 runway. Each boot was reportedly crafted with 3,000 stones (opens in new tab) , and altogether the pair of not-very-comfy-looking shoes cost a whopping $10,000. So, I guess, beauty is pain and money.
Nicki Minaj
In 2012, seasoned heel-walker Nicki Minaj wore a head-to-toe pink ensemble, complete with pale pink Giuseppe Zanotti peep-toe (opens in new tab) pumps to promote her new fragrance. The peep-toe style looks to be squeezing her toes together, and the platform is nearly five inches!
Jennifer Hudson
The singer walked the 2014 People's Choice Award red carpet in a pair of strappy sandal heels that were noticeably crushing her pinky toes. And it looks like there is barely any sole to support her feet. Yikes!
Angelina Jolie
Shoe designer Christian Louboutin created a pair of heels (opens in new tab) that were inspired by Angelina Jolie's role in the Disney movie Maleficent, and she wore them to a London photo call for the movie. The heel is sculpted to look like one of of Maleficent's horns.
Bella Hadid
Just a few hours after she rocked a dominatrix-y, latex gown (opens in new tab) and 10-pound veil at the Met Gala (opens in new tab) , Bella Hadid showed up at the after party (opens in new tab) in a pair of open-toed mules that appear incredibly hard to walk in. It looks like Hadid is scrunching her toes in an effort to keep them from sliding off.
Princess Beatrice
Princess Beatrice had a small shoe mishap at the Met Gala in 2018. Her heels were so slim, one got caught in a street grate. That's one way to twist an ankle in a pair of heels.
Kate Middleton
Kate Middleton has also experienced some heel difficulties. Though her shoes don't look that uncomfortable to wear, the position her foot got caught in does. If anything, Kate is the queen of heel-wearing—she can even throw a pair on hours after giving birth (opens in new tab) .
Kim Kardashian
While she was in the final trimester with her and Kanye West's first daughter, North, Kim Kardashian wore a pair of very high heels with with criss-crossing straps to promote the Kardashian Kollection at Sears. Later, when she took the shoes off, she revealed just how badly the straps were cutting off her circulation (opens in new tab) .
Lady Gaga
Yes, here's Lady Gaga again because the Alexander McQueen Armadillo shoes she wore to the 2010 VMAs look extremely painful to put on, let alone walk in. You know when ballerinas wear pointe shoes and dance on their toes? That's what we imagine wearing these heels would be like. Also, let it be noted that these heels are almost one-foot tall (opens in new tab) .
Daphne Guinness
Fashion designer Daphne Guinness loves to wear Gaga-like shoes. Her sparkly, purple boots are noticeably missing one important part: a heel. Yes, Guinness actually walked around in a pair of shoes that was all platform, no heel, which looks extremely difficult if you ask us.
Aubrey Plaza
When Aubrey Plaza looked back at the camera, it became very noticeable that her heels didn't fit. But apparently a lot of celebrities choose to wear shoes that are just a little too big (opens in new tab) to help prevent blisters and to stop their feet from swelling. Walking around in shoes that might fall off sounds pretty uncomfortable, but swollen feet and blisters do too.
Rashida Jones
Poor Rashida Jones' pinky toes didn't quite fit properly in the shoes she wore to the Film Independent Spirt Awards in 2013. Instead of wearing shoes that were too big, it seems like she walked out in a pair that was too small.
Julianne Moore
Here, at the 2013 Cannes Film Festival, Julianne Moore's heels fit so poorly that somehow her pinky toe managed to slip out of the metallic silver straps.
Lady Gaga
You had to have known Lady Gaga was going to be in here not once, not twice, but three times (at least). Who could forget when the singer attended the 2010 VMAs wrapped completely in raw meat (opens in new tab) ? It doesn't seem like the most breathable material, so surely her meat-and-butcher's twine platforms weren't comfortable.
Alysia Reiner
The Orange Is the New Black star rolled up to the Young Hollywood Awards in 2014 wearing a pair of strappy heels that looked like they were squishing her pinky toes. Ouch!
Holly Madison
The New York Times-bestselling author and former Playmate wore a pair of pumps to a dog show in 2013, just a few months after giving birth. If you look closely, her very high Charlotte Olympia (opens in new tab) "Cherie" heels are sculpted to looks like pink poodles, which is cute, but they don't look too fun to walk around in.
Jennifer Lawrence
During The Hunger Games: Catching Fire premiere in New York, Jennifer Lawrence wore a pair of heels that were too big, and it looks like her feet were sliding around in the shoes. That's probably not good for the ankles.
Kim Kardashian
The Keeping Up with the Kardashians star debuted a pair of thigh-high, clear, plastic boots in 2016. The see-through boots were from Kanye West's Yeezy Season 4 collection (opens in new tab) . While she might be supporting (or promoting) her husband's brand, she's not making us think these shoes are easy to walk in.
Jessica Alba
Jessica Alba took a misstep while attending a Dior show during Paris Fashion Week in 2011, maybe due to the fact that the heel of the shoe appears to have very little support. The design of her white open-toed pumps seems very easy to twist an ankle in.
Katy Perry
Can you find Katy Perry's pinky toes? Nope, because they aren't visible in the shoes she wore to the 2013 MTV EMAs in Amsterdam. That just seems downright painful.
Lady Gaga
Here she is again for a fourth (and final!) time because we couldn't not acknowledge how awful these heels look to walk around in. If anyone can manage, it's Lady Gaga.
Rosie Huntington Whiteley
The model-slash-actress-slash-businesswoman was spotted walking barefoot, carrying her very high-looking heels during a Transformers 3 press conference. Everyone's feet need a little break sometimes.
Kim Kardashian
Kim Kardashian is in here a lot, too, because she's always rocking heels—no matter how badly they may hurt her feet. While she was pregnant with baby Saint, she was spotted in a pair of Yeezy Season 2 clear pumps that looked like the heel was about to snap (opens in new tab) .
Taylor Schilling
At the 2012 European premiere of The Lucky One, Taylor Schilling wore a pair of clear heels that were noticeably steamy. Hot feet never equal happy feet.
Taylor Swift
T. Swift knows when to shake them off. During the 2008 CMT Awards, the Reputation singer got a little more comfortable and kicked off her metallic fuchsia heels.
Daphne Guinness
Remember Lady Gaga's armadillo heels from earlier? Well, Daphne Guinness wore a very similar pair to a 2009 NARS launch party. Not the first pair of shoes we'd pick.
Marion Cotillard
The French actress wore a pair of Dior pumps during the Bike In Style Challenge winner announcement and awards ceremony. Surely, she wouldn't bike in these shoes with heels sculpted to look like goddesses (opens in new tab) ?
Lea Seydoux
The French actress attended the 26th annual Cabourg Romantic Film Festival in a pair of classic red pumps—but she, too, followed the time-old Hollywood "tradition" of wearing a heel a size too big. How?
Pamela Anderson
While walking around Central Park with her son, Pamela Anderson reportedly stopped to play soccer (opens in new tab) with him, which she couldn't do while wearing these heels.
Kate Moss
The supermodel was photographed leaving a Marie Curie Cancer benefit in London in 2012 and Moss's feet looked quite uncomfortable in stilettos that appear to be a size too small. Her poor pinky toe!
Britney Spears
Already an offender of the too-small heel, Britney Spears struck again at the premiere of Once Upon a Time. in Hollywood in 2019. The singer wore black T-strap block heels that caused her to suffer from the all-too-familiar disappearing pinky toe.
Meghan Markle
Everything was perfect when Prince Harry announced his engagement to Meghan Markle in November 2017. Everything, that is, except the Suits star's oversized heels, which we imagine were hard to navigate on the stone walkway.
Chrissy Teigen
Chrissy Teigen looked stellar in a gold strapless gown for the Time 100 Gala in New York City, but her strappy stilettos looked like they were a tight squeeze. The weather conditions didn't help either.
Elizabeth Banks
As Elizabeth Banks made her way up the staircase at the 2017 Met Gala, the actress revealed to fans that she was using the old Hollywood trick of wearing shoes that are a size too big to avoid swelling and blisters.
Sandra Bullock
The actress wore a pair of peep-toe platform heels to the London premiere of Gravity in 2013. Since you can see more than one toe peeping through, we imagine a lot of cramming took place to get this pair on.
Irina Shayk
No doubt, Irina Shayk looked *heavenly* at the Heavenly Bodies: Fashion and the Catholic Imagination-themed Met Gala in 2018. Sadly, her shoes missed the memo—the model had to scrunch up her toes in order to fit into her gold heels.
Kate Beckinsale
The English actress stunned at a Grammy Awards party 2014. She was so stunning that we almost didn't even notice her heels were too small. Beckinsale's poor toes were practically grazing the sidewalk.
Amal Clooney
When arriving at an event in New York City in 2015, Amal Clooney stepped out in a monochrome green look and green strappy sandals (yes, sandals can be uncomfortable too!) that appear ill-fitted for her foot.
Kristen Bell
Kristen Bell is no stranger to heels—after all, her husband Dax Shepard is more than a foot taller than her. At the premiere of The Boss, the actress' heels looked too big for her feet.
Katie Holmes
We feel for your squished toes, Katie Holmes. The actress fell victim to shoes that were too small and her poor feet look like they're turning blue as a result.
Julia Roberts
Most high-heel wearers know that at some point in the evening, the shoes have to come off—but Julia Roberts didn't even make it down the red carpet at the Cannes Film Festival before giving up. Honestly, good for you, Julia.
For more stories like this, including celebrity news, beauty and fashion advice, savvy political commentary, and fascinating features, sign up for the Marie Claire newsletter.
Bianca Rodriguez is the Fashion & Luxury Commerce Manager at Hearst Magazines, covering fashion, beauty, and more for Cosmopolitan, Elle, Esquire, Harper's BAZAAR, and Town & Country. She likes lounging about with a good book and thinks a closet without platform sneakers is a travesty.
Is Bringing Your Whole Self to Work a Trap? The idea of being more "authentic" in the workplace has become increasingly popular. But for mothers, it can come with consequences. By Michelle Eigenheer
Prince Louis Was Filmed Eating a S'more So Delicious It Literally Made Him "Weak at the Knees" Oh, Louis. By Iris Goldsztajn
Halle Bailey Dazzled in a VERY On-Theme Dress for 'The Little Mermaid' Premiere She smashed it. By Iris Goldsztajn