How Camilla Belle Met Joe Jonas and Why They Split
Please subscribe to our newsletter to receive updates from Your Next Shoes. This post may contain affiliate links. Please see our disclosure for more details.
Before Joe Jonas tied the knot with Game of Thrones star Sophie Turner, he was linked to several beautiful Hollywood starlets, including Camilla Belle.
The pair dated for seven months, between October 2008 and July 2009. Belle was 22 when the pair began dating, and Jonas was 19 years old.
Camilla Belle and Joe Jonas started dating after meeting while filming the Jonas Brothers' "Lovebug" music video (Credit: INFphoto)
Although the Hollywood darlings only dated for a few months, their relationship inspired a number of well-known songs, including the Jonas Brother's Much Better and Taylor Swift's Forever and Always.
How did Joe Jonas and Camilla Belle Start Dating?
Jonas and Belle met when the actress starred in the Jonas Brother's music video for their hit song Lovebug in 2008.
The pair first met while Jonas was still dating Taylor Swift. Swift wasn't too happy about the timing, telling Us Weekly, "They've been together since we broke up. That's why we broke up—because he met her."
Camilla Belle and Joe Jonas split in July 2009 after eight months of dating (Credit: INFphoto)
Responding to Swift's accusations, Jonas made it clear in a blog on the Jonas Brother's MySpace page that he had never cheated on anyone.
"Like all people our age, we are trying to find someone special that we can share time with in our busy lives," the post said.
"We all have busy schedules and high demands. We love our life and are thankful for all that we have. We are simply stating that it is difficult to maintain relationships with the kind of life we live."
The Brutal Breakup Songs Inspired by Their Relationship
Swift and Jonas dated for three months in 2008 before he met Belle. After the breakup, Swift appeared on the Ellen Show to promote her upcoming Fearless album in 2008. She revealed that Jonas had broken up with her over a 27-second phone call.
If fans weren't satisfied with Swift's breakup story on the Ellen Show, they could listen to it on her 2008 album Fearless.
Jonas inspired the track titled Forever and Always. The song tells the story of a relationship gone wrong, with some savagely honest lyrics from Swift.
Many songs recorded for Taylor Swift's Fearless album can be traced back to her relationship with Joe Jonas (Credit: Milo / Startraksphoto)
"Was I out of line?/ Did I say something way too honest, made you run and hide/ Like a scared little boy."
Forever and Always was a last-minute addition to the album and delivered iconic Taylor Swift lyrics: "When I find that person that is right for me, he'll be wonderful, and when I look at that person, I'm not even gonna be able to remember the boy who broke up with me over the phone in 25 seconds when I was 18."
Jonas Responds with A Song About Belle
In response to Swift's cutting song about their breakup, Jonas wrote a song called Much Better. The Jonas Brothers released the song a few months after Forever and Always.
Jonas doesn't ever confirm that the song is about Belle being a "Much Better" girlfriend than Swift, but it's not difficult to read between the lines.
The song is about a new girlfriend who is much better than the last. There's further evidence in the lyrics, as a line plays off Swift's song Teardrops on My Guitar.
"I got a rep for breaking hearts / Now I'm cool with superstars / And all the tears on her guitar / I'm not bitter," he sings.
The song Much Better from Lines, Vines and Trying Times, the fourth studio album by the Jonas Brothers, is rumored to be about Joe Jonas's romance with Camilla Belle (Credit: INSTARimages / Cover Images)
Swift released another song throwing shade directly at Belle, titled Better Than Revenge which she released in 2010.
The song features lyrics like "She's not a saint/ And she's not what you think/ She's an actress/ She's better known/ For the things that she does/ On the mattress whoa / Soon she's gonna find / Stealing other people's toys on the playground / Won't make you many friends."
Belle and Jonas Break up
In 2009, Jonas and Belle broke up. The split was amicable, and the pair remained on good terms. "There is no third party involved, and they care deeply about each other and will remain friends," a representative for the actress said in a statement.
Belle is not dating anyone as of 2022, and Jonas married Sophie Turner in 2019. The couple now shares two children.
Camilla Belle styles her hair into an edgy updo for the premiere of Pantelion Films' "Sundown" held on May 11, 2016, at ArcLight Cinemas in Hollywood (Credit: FayesVision / WENN)
In May 2016, Camilla Belle stayed loyal to her go-to-brand as she attended the premiere of the Mexican-American comedy film "Sundown" held at ArcLight Cinemas in Hollywood.
The then-29-year-old actress wore a head-to-toe look from one of her favorite designers, Monique Lhuillier.
Camilla Belle wears a head-to-toe Monique Lhuillier ensemble on the red carpet of the "Sundown" premiere (Credit: FayesVision / WENN)
Camilla, who portrayed Cathy Bowman in The Lost World: Jurassic Park, donned a sheer black blouse with contrasting yellow leaf embroidery, a high ruffled neck, and long sleeves.
The Stranger Calls actress tucked it into a pair of black high-waisted tuxedo-style pants, which had a long satin-and-velvet bow detail on one side.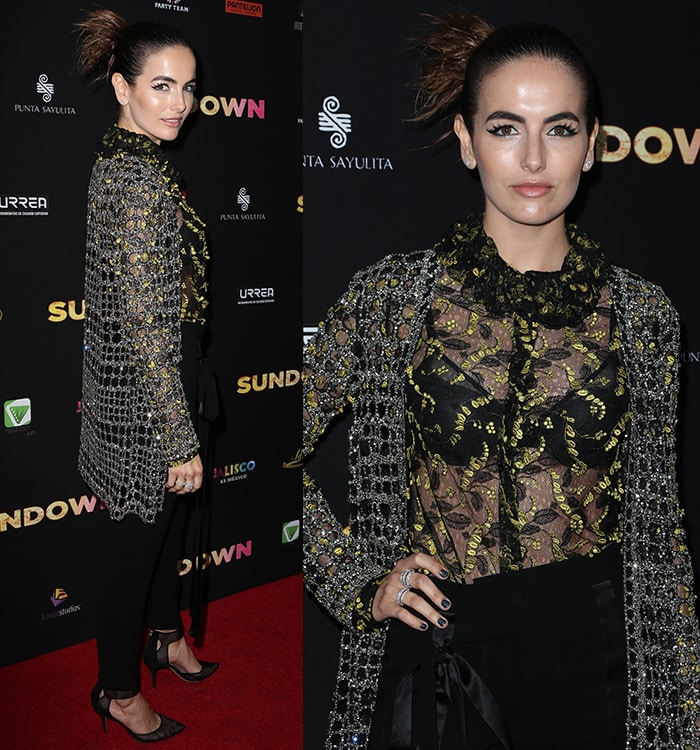 Camilla Alves wears a sheer black-and-floral gothic-inspired ensemble from Monique Lhuillier (Credit: FayesVision / WENN)
Camilla edged up the look by layering a crystal-embroidered net cardigan over her sexy gothic ensemble.
Joe Jonas's ex-girlfriend accessorized with a few pieces of bling, including a pair of diamond stud earrings and a couple of rings, and slipped into a pair of mesh pumps.
She scraped her hair back into an edgy updo and wore dark eyeliner, eyelash extensions, and nude rose lipstick.
Camilla Belle wears a sheer Monique Lhuillier blouse under a crystal-embroidered net cardigan (Credit: FayesVision / WENN)
Camilla finished her ensemble with a pair of mesh pumps by — you guessed it — Monique Lhuillier.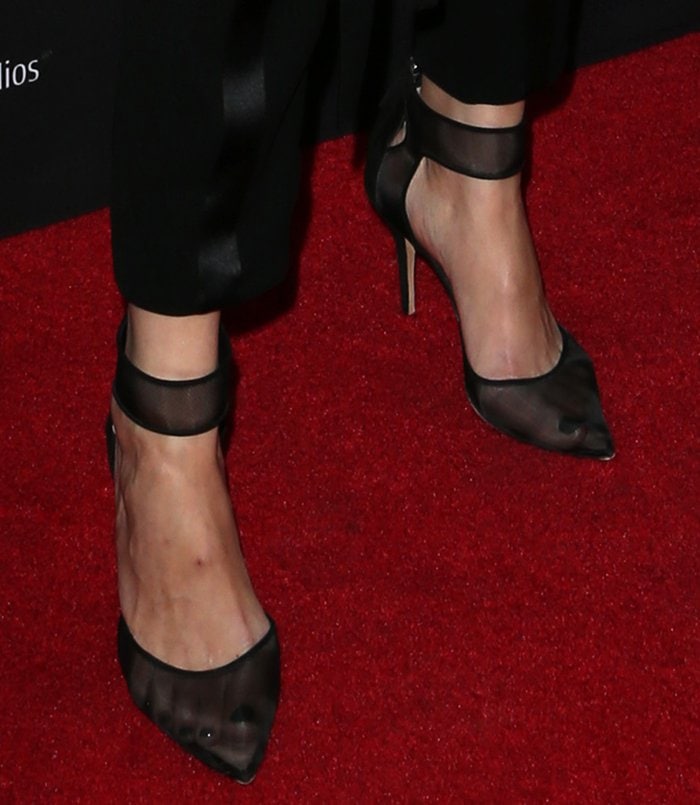 Camilla Belle's feet in mesh Monique Lhuillier pumps (Credit: FayesVision / WENN)
These d'Orsay-style pumps have ankle cuffs, back zip fastenings, cutouts at the heel counters, pointed toes, and about 3.5-inch heels.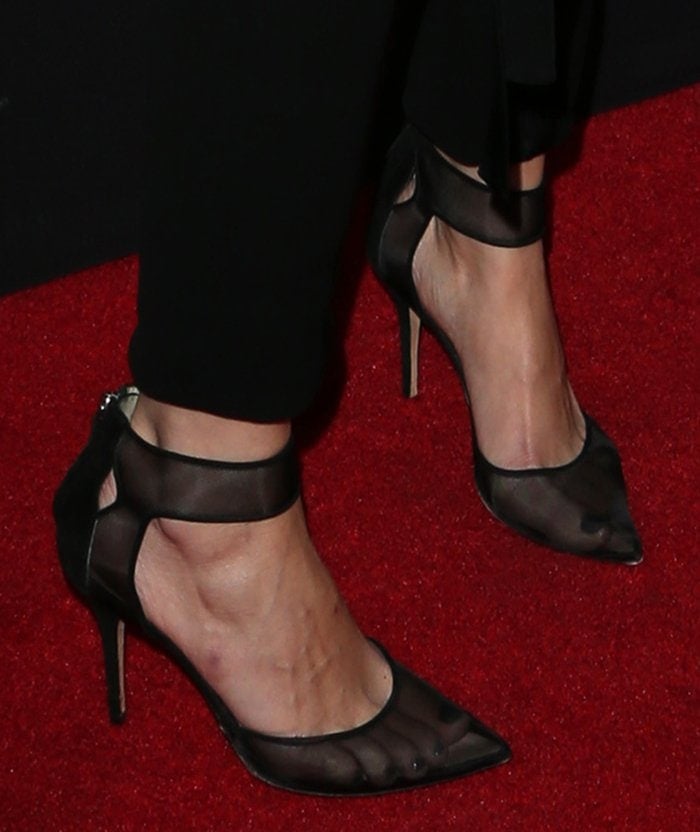 Camilla Belle's feet in black mesh Monique Lhuillier pumps (Credit: FayesVision / WENN)
We couldn't find Camilla's Monique Lhuillier pumps, but you might want to check out this interesting alternative from the same fashion house at Nordstrom.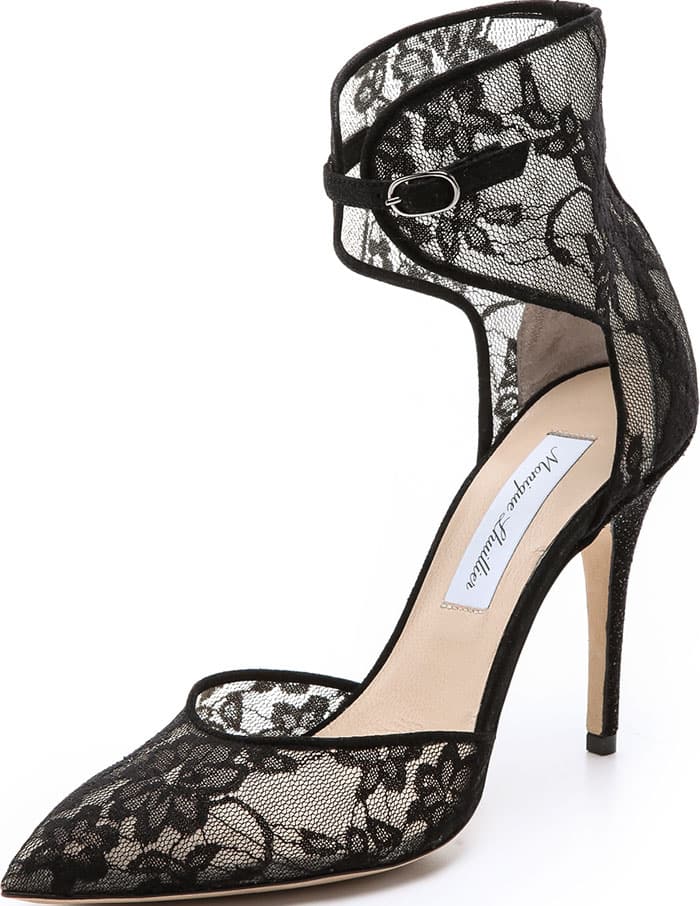 Monique Lhuillier Lace Accent Pumps, $795